Social media's liability, algorithmic amplification, and open internet
CEOs of Facebook, Twitter, and Google testified about Section 230.
👋 Welcome to the FWIW by David Tvrdon, your weekly tech, media & audio digest.
🌐 Online version. 👉 Be sure to subscribe, if you were sent this newsletter.
---
In this edition
⚖️ CEOs of Facebook, Twitter, and Google testified about Section 230
🔍 Apple is working on its own Google search alternative
💬 Other tech, media, gaming, audio & podcasting news
---
👻 BONUS: Last week I spoke about podcasting in Slovakia at the News Impact Summit. The video is not available yet, but here is my presentation, and here is the written version I posted to Medium: How podcasts can help your membership or subscription strategy.
Also, I wrote about newsroom audio strategies for The Fix.

Social media's liability, algorithmic amplification and open internet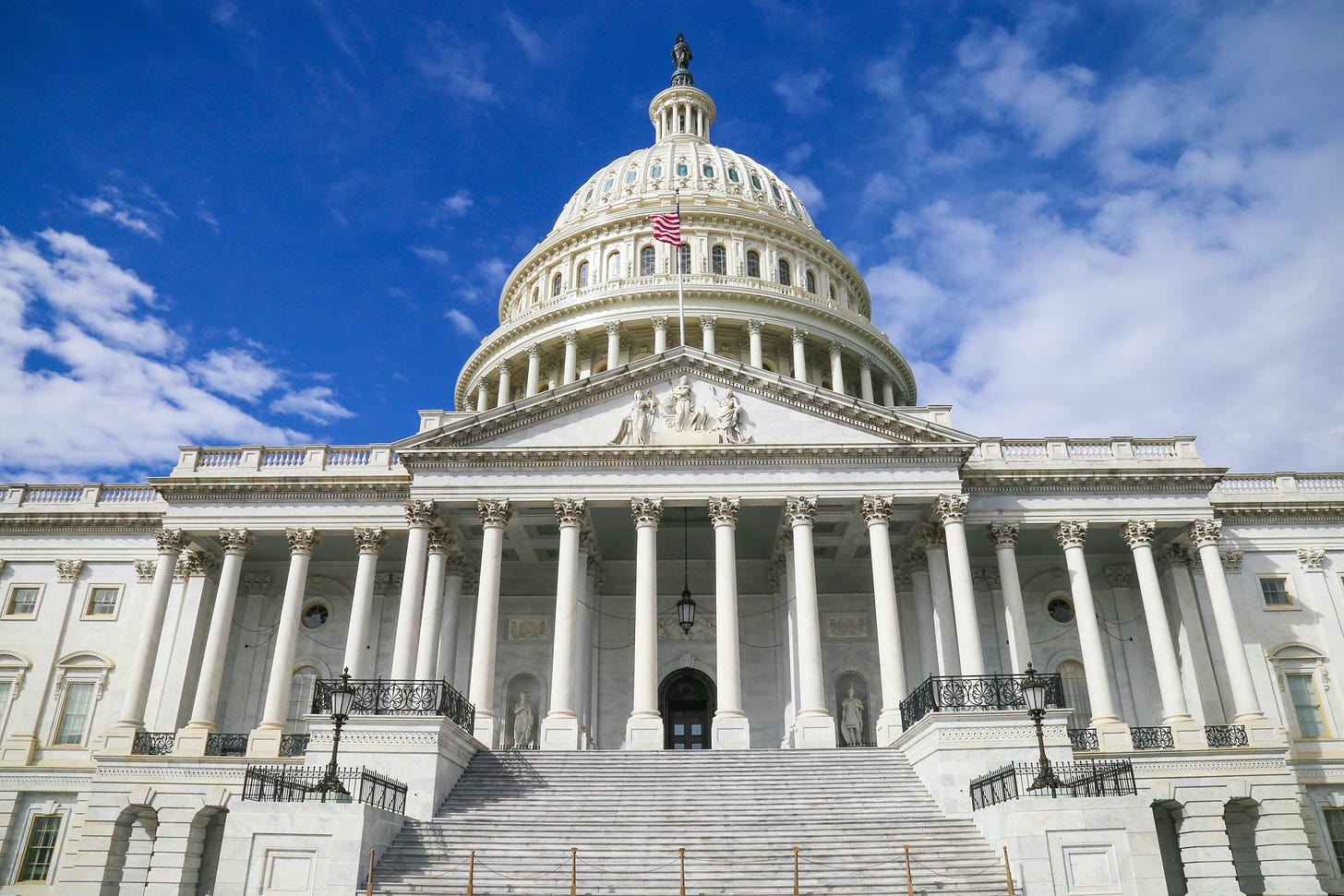 📸 by Louis Velazquez on Unsplash
On Wednesday the three CEOs of Facebook, Twitter, and Google testified about Section 230 before Congress. It took almost four hours and no, it wasn't useful one bit. Unfortunately, the matter of the debate (Section 230 and the part which makes social media not liable for the content users post online).
The law is called the most consequential law governing speech on the internet, it was created in 1996 (before any social media giants existed) and if you want to go deep on it, here is a great explainer by The New York Times.
What happened during the hearing
OK, first let me paint the picture of the hearing. It was not nice. Here are some Tweets to get you up to speed on it:
To sum up: It's 2020 and videoconferencing is still bad, there were several issues during the debate; basically, no one touched on the Section 230 debate and so we did not hear any reasonable proposals from the Congress; the Republican/Democrat divide on this issue is (unsurprisingly) mind-blowing.
To go deeper on the exact play by play of the hearing, check out New York Times' live blog or this piece by Casey Newton.
Section 230: Voices of reason
Fortunately, leading up to the hearing there were a few reasonable pieces published that actually went deep on the issue at hand.
The Information published an op-ed by Roddy Lindsay, a former Facebook data scientist and a co-founder of Hustle, a messaging startup.
A new opinion filed by Supreme Court Justice Clarence Thomas two weeks ago provides an intriguing road map for accomplishing this in a simple way: preserve most Section 230 protections but eliminate them for algorithmically amplified content like that in Facebook's News Feed, which boosts the distribution of stimulating items that attract more clicks and comments.

Justice Thomas on October 13, with a 10-page opinion about Section 230 attached to a routine court proceeding. (Section 230 has never been tested in the Supreme Court.) He argued that lower courts' interpretation of Section 230 is incorrect, providing undue immunity where none should exist. His key claim is that although the statute insulates social media companies from publisher liability for hosting illegal content in their databases, they might not be insulated from distributor liability if they distribute content they know to be problematic.

Algorithmic amplification is not necessary for us to enjoy and get utility from the internet. The internet before algorithmic content feeds was less centralized and more fun, with fewer gatekeepers. We learned about the world and navigated using tools like bookmarks, blogs, RSS feeds, mailing lists, message boards, and Wikipedia.
The Protocol published The hardest questions tech CEOs could be asked at the Section 230 hearing.
The Washington Post published an op-ed by three information technology professors at the University of Virginia. In the piece, they outlined social media research which found that Facebook's engagement-focused algorithm steers content to its conservative users that is more conservative than what they would normally read.
Facebook, Reddit and Twitter all have policies about extreme content on their platforms. Yet Facebook's algorithms push users to become more extreme. As long as increased use of Facebook is associated with polarizing echo chambers, Mark Zuckerberg is failing in his stated mission to "bring the world closer together."
And Andrew Ross Sorkin in Dealbook writes that cases against the tech companies based on freedom of speech have failed because these public forums belong to private entities.
Conclusion
There is no easy way out. Both Democrats and Republicans want a change, unfortunately, they want opposite things.
The algorithmic amplification is, I think, at the core of it all. The question is whether your platform decides which content will be seen by billions. The media does this by hand curation mostly and we see some outlets experimenting with machine learning and automating homepage curation. Noone from the media will tell you they are not the gatekeepers. They are and they realize it and mostly act accordingly.
Now, social media giants say algorithms are neutral and so even though an algorithm decides what users see, the company is not deciding. Well, the company built the machine and as we have seen, engineers made choices that give certain types of content advantages over others.
In my playbook that's curation.
Hopefully, in the future, we will see a more nuanced debate over these important issues that affect the whole society.

🙏 Liked it so far? ❤️ Support this newsletter by sharing it, thanks!

In other news
TECH
😲 Apple might be working on its own search engine. It's not a secret the internal search on iOS is something Apple is refining in each major update and the company has people with search engine building background (John Giannandrea has been running Google's search for 8 years and now is at Apple). It would possibly take years to make it good and as we know from the recent DOJ suit, Google labeled internally 'code red' the possibility of losing the default position on Apple devices. [Financial Times]
In a little-noticed change to the latest version of the iPhone operating system, iOS 14, Apple has begun to show its own search results and link directly to websites when users type queries from its home screen.

That web search capability marks an important advance in Apple's in-house development and could form the foundation of a fuller attack on Google, according to several people in the industry.
ALSO: How Apple Is organized for innovation. Read this deep-dive into the company's structuring and how it helps its innovation culture. [Harvard Business Review]
#️⃣ Microsoft quarterly earnings showed two things. Cloud is a very good business for Microsoft, as is its productivity business with MS Teams now over 115 million daily active users (compared to 75 mil. in April). And although the personal computing segment grew 6% year over year, Microsoft might be losing ground to cheaper Chromebooks which are gaining a bigger and bigger market share. [CNBC]
🎓 Building AI is a sequel to Elements of AI. Fin­land con­tin­ues its quest to teach 1 % of the world the ba­sics of AI with a new open on­line course called Build­ing AI. The new course is a continuation of Elements of AI, the country's super popular MOOC, which now has over half a million participants. [Building AI course]
😶 Which programming language is winning? A new developer survey has shown JavaScript tops the charts with 12.4 million active software developers, followed by Python at 9.0 million, and then Java at 8.2 million. C/C++, PHP, and C# have around 6.0 million each. TypeScript is included in the JavaScript numbers.[The Register]
📍 Google is reconstructing cities from historical maps and photos. The new fun project from Google aims to recreate historical streetscapes using deep learning and crowdsourcing. [re.city]
✍️ Reviewing Ben Thompson's Stratechery. Tim Wu, professor at Columbia University Law School and antitrust expert (read his book The Curse of Bigness: Antitrust in the New Gilded Age), takes a closer look at Thompson's Aggregation Theory and his effort to use it to explain antitrust in regard of Big Tech. I love reading Stratechery and think it's smart but I also love a healthy discussion about important topics. [Medium]
😓 Not a good look for Twitter CEO. Twitter and Square employees say Jack Dorsey takes hands-off management to extremes, delegating or delaying most major decisions, partly to pursue his passions. [Wall Street Journal]
---
MEDIA
👏 First, some good news. Subscriptions done right work, no matter how big or small the country is. Kudos to colleagues from Denník N.
🤑 BuzzFeed expects to break even this year, thanks to heavy cost cuts. The digital media company's revenue has taken a hit during the pandemic. Layoffs and other cuts have helped shore up its bottom line. [Wall Street Journal]
In addition to cutting costs, the news unit is looking to bring in more revenue through new podcasts and other ventures, Mr. Peretti said.

"For a long time, we ran BuzzFeed News with exuberance but without discipline," Mr. Peretti said. "Now we are operating with both discipline and exuberance. It was a painful process, but we are focused on making it break even or lose just a small amount."
James Bond was too pricey for Apple TV+, Netflix, and others. No Time to Die, the upcoming James Bond movie was pushed all the way to 2021. In meantime, MGM, the studio behind the film tried to sell it to streaming companies for $600 million. Without luck. Blockbusters have been sold during the pandemic to streaming companies for roughly tens of millions, not hundreds. [Variety]
🎥 Jon Stewart goes to Apple TV+. He is returning to the world of news with a current affairs series. Apple has ordered multiple seasons of the new show right out of the gate. [Hollywood Reporter]
SIDE NOTE: Interestingly, the show's executive producer is Richard Plepler, the former head of HBO. Stewart previously had a deal to make shows for HBO while Plepler was there, but nothing came of it. Keep in mind, Plepler was the executive force at HBO that greenlit the most popular and successful shows. As of January, he has a 5-year deal with Apple TV+. Expect more moves like this from him.
🎙️ Inside A16z's media operations. Andreessen Horowitz has an 8-person newsroom generating more and more content that keeps impressing smart people. But, as Johannes Klingebiel reminded me and others, there is a certain view the VC media likes to portray. Tom Webster of Edison Research calls it the carefully sculpted reality. [Monday Note]
🌎 Digital media subscription Master Classes. Three topics: Acquisition, engagement, and retention. [FIPP]
⏭️ Getting a subscriber is one thing but keeping them is a different challenge. In his latest newsletter, Brian Morrissey, ex-President/EIC at Digiday Media, turned newsletter writer at Substack writes about the importance of keeping subscribers subscribed. [The Rebooting]
---
AUDIO & PODCASTING
🔊 The future is local. City Cast is a new network of daily local podcasts by David Plotz, past editor-in-chief of Slate, and co-host of its popular podcast Political Gabfest. The project is just starting and Plotz is looking for staff. His idea seems very similar to what Axios Local is aiming to do with newsletters (I wrote about it a while ago). [Medium]
🤦‍♂️ Rogan did it again. The controversy around Joe Rogan's podcast at Spotify continues as he invited Alex Jones, the conspiracy theorist, again to his show and let him spread misinformation about covid-19 among other things. Jones was banned from Spotify in 2018, as well as Facebook, Apple, and YouTube. This is exactly the kind of trouble people warned CEO Daniel Ek when he signed up Rogan for roughly $100 million. [BuzzFeed News]
🗣️ Audible really wants to be your podcast player. The service added 100-thousand free podcasts to its catalog, available through the app for all listeners with or without a subscription. I mean, it might be a good subscription funnel for Audible to push free podcast listening and then slowly getting people to subscribe to listen to audiobooks. [The Verge]
🎧 Netflix is testing an audio-only mode to compete with podcasts and audiobooks. The new feature would allow subscribers to stream shows and movies without video. [Protocol]
---
GAMING
🕹️ Facebook tries to reposition itself as a gaming platform. Gaming is a big business as I have mentioned in this newsletter several times. So it's understandable that Facebook is betting big on cloud gaming, which is a developing part of that business, and also it is the most approachable part for the social media giant to jump in.[Protocol]
---
OTHER
🙌 This!
---
Catch me on Twitter or LinkedIn. Was this forwarded to you? 👉 Subscribe over here.