Google accomplished what Apple could not
The new Google TV is a giant "into your face" for Apple and its Apple TV dreams.
👋 Welcome to the FWIW by David Tvrdon, your weekly tech, media & audio digest.
🌐 Online version. 👉 Be sure to subscribe, if you were sent this newsletter.
---
In this edition
📝 Notes from the latest Google event
📩 Free morning newsletters for local audiences can be a good business
💬 Other tech, media, audio & podcasting news

What is Google TV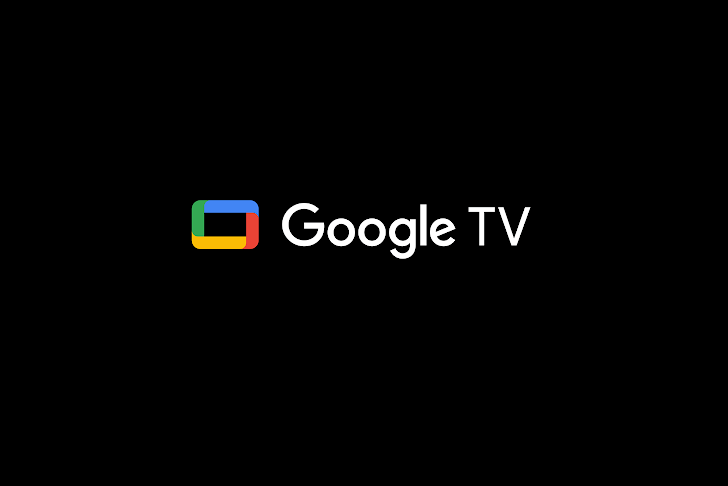 📸 by Google
On Wednesday night, Google showcased new products. We saw the long rumoured and well leaked Pixel 5 phones with 5G and an obvious midrange contender.
Also, there was the new Pixel 4A 5G, a new Chromecast with a remote, new smart speaker called the Nest Audio and the whole event opened with Google TV, which gave the impression this is what Google thinks is the most important product of the launch. And I agree.
Google Pixel's market share is less than 1%, Amazon si still dominating the smart speakers market with a better product line, but Google's Chromecast was an unlikely hit and the company obviously leaned in.
Google TV is a new interface for the new Chromecast ($49.99) built on top of the Android TV platform which you can find on some smart TVs. It is combining streaming services, live TV and others into a single user interface.
Yes, if you just went in your head this is very similar to what Apple and Amazon are doing, you are right. It's meant to be a one-stop-shop to replace cable TV outright.
Google managed to get deals with Netflix, Disney+, HBO Max, Prime Video, france.tv, Sling TV, Starz, NBC's Peacock coming soon and obviously YouTube and YouTube TV included.
When opened, Google TV shows you an offering what to watch (you connect your active accounts which will be prioritized, but get to see movies and TV shows from other channels as well). Once you search for something, let's say all the movies with Christian Bale, you will get a list from various services.
As mentioned, Apple and Amazon are doing something similar, but Google somehow managed to get a lot of popular services on board (Apple couldn't get Netflix) and this particular one-stop-shop idea seems very attractive.
The interface is tied to a Chromecast device at the moment and it is not hard to imagine it will come in some form to Android TV or even replace it in the future.
In any case, at the moment it seems to be the most compelling offering of the fragmented VOD and TV landscape.
P.S.: Let's not forget the mess Google product branding and naming has become. There are now 5 Google products with "TV" in their titles:
Google TV (tied to Chromecast at the moment)

Google Play Movies & TV (which is changing name to Google TV, but remains the same service 🤦‍♂️)

Android TV

YouTube TV

Google Fiber TV

+ let's not forget the original Google TV (2010-2014)

Axios is taking lessons from the tech scale-up business strategy and going local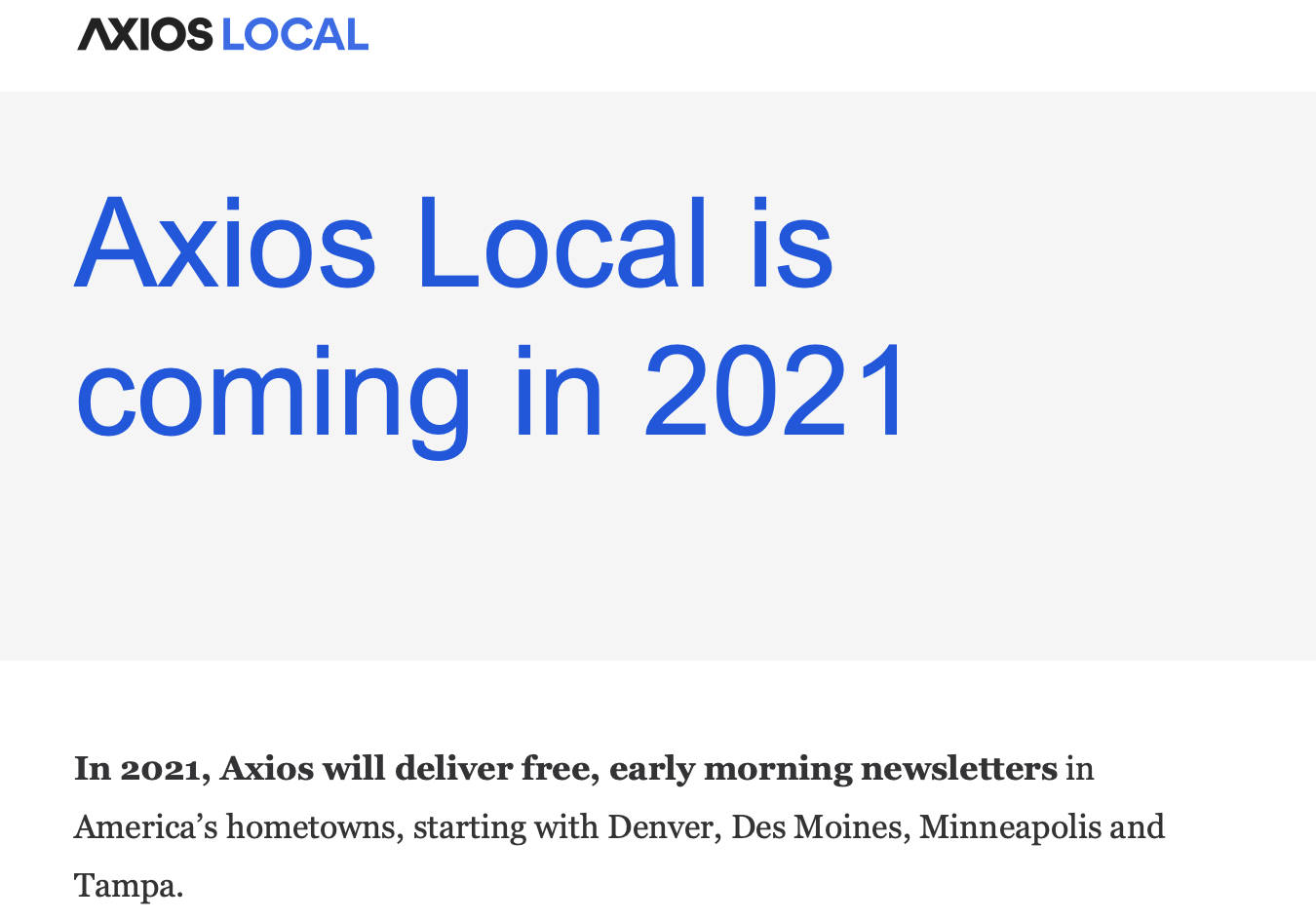 📸 by Axios
A while back, my colleague sent me a tip, a Twitter thread of a media business (in short, Andrew Wilkinson is explaining how he recreated a local newspaper in the form of a daily newsletter which now has 40,000 subscribers and is profitable, he says with a $100-200k investment anyone can do it. He spent about $200k on FB and Instagram ads to get people to sign-up.)
After reading it the first time I was quite sceptical. If it was to easy, why aren't there more local newsletter operating on the same principle? The proposition seems valid, so what's the problem.
Wilkinson is a businessman who knows how to start a business as he says in his Twitter bio (Buying, starting, and investing in wonderful internet businesses since 2007.), so that's a plus point. Then there is the $200k investment and getting advertisers for your newsletter.
I forgot about this story until on Wednesday I got an email from Axios (see above) saying they are going local, starting something very similar Wilkinson did in his hometown.
But, as Axios in a venture-back media upstart they are going to do it on scale (= in several cities, possibly in every state).
Just before getting that email, I have seen on Twitter this WSJ piece on Axios going to be profitable this year:
I remember Axios built their own newsletter CMS and suddenly it all came together.
You have a proprietary technology which you don't have to license, you have the know-how after sending newsletters for 3 years and you know how to sell ads for those newsletters (50% of their revenue comes from newsletter sponsorships).
So, to make a play for local you "only" need a decent journalist in every city and you can start scaling across the whole country.
In theory, this could work. We shall see.

🙏 Liked it so far? ❤️ Support this newsletter by sharing it, thanks!

In other news
TECH
✋ Amazon will now let you pay with your palm in its stores. The technology is called Amazon One and anyone can sign-up with your credit card, you don't need an Amazon account. For some time I have been saying (well, not only me) that biometric verification will likely become a universal ID and payment method. In China, they have facial recognition, Apple uses Face ID and now Amazon is betting on palm ID. [Recode]
⚖️ China preparing an antitrust investigation into Google. You know it's bad when even China is considering an antitrust probe into your company. China will be looking into allegations it has leveraged the dominance of its Android mobile operating system to stifle competition. The case was proposed last year by Huawei. [Reuters]
💰 Google really wants its 30% cut from app developers in its Play Store. Google gave offenders (Netflix and Spotify are among them) time until Sept. 30, 2021, to integrate its billing systems. [NY Times]
💻 Dell is updating its most popular notebooks, its XPS laptops. [Engadget]
The refreshed XPS 13 2-in-1, XPS 13 and XPS 13 Developer Edition are the first Dell laptops to receive Intel's Evo certification. That means they support fast charging, can run for at least nine hours on a single charge and wake from sleep in under a second.

All three systems have Thunderbolt 4 ports and memory upgrades from 3733MHz LPDDR4x to 4267MHz, with support for up to 32GB of RAM. The updated XPS 13 2-in-1 and XPS 13 offer Intel Xe graphics as well. On top of that, the 2-in-1 has an IR camera that supports Windows Hello and more design options. The convertible machine starts at $1,249 and the XPS 13 begins at $999.
🦾 Kara Swisher interview Elon Musk for her new podcast Sway. [NY Times]
🏠 Zoom fatugue is real. Why? Because Zoom enabled the bosses to squieze in more meetings than they would be able to attend in person and now employees are seeing the aftereffects. WSJ reports some companies had to issue "quiet days" (Zoom-free) so that people could catch up on work and also to avoid worker burnout. Which, honestly, sounds horrible to burnout and not even be in the office. [Wall Street Journal]
Corporate America's pre-pandemic battle cry to reduce unnecessary meetings gave way to a more-is-better mentality when those meetings moved on-screen. Executives boasted about being able to fit in more meetings a day by cutting out travel time, and workers accepted every meeting invitation to stay plugged in or because they felt they had to. Several employers say some workers feel isolated at home and crave video calls even when they're not needed.
---
MEDIA
👨 Chris Wallace after the first presidential interview: I never dreamt that it would go off the tracks the way it did. The anchor gave NYT an interview in which he admitted he failed. Regarding the suggestion that moderators be given the power to mute the candidates' microphones — popular on social media in the hours after the event — Wallace argued even if the president's microphone had been shut, he still could have continued to interrupt as the sound would likely be picked up by Biden's microphone. We shall see what the Commission on Presidential Debates comes up with. [NY Times]
👥 Clubhouse again in headlines, not in a good way. I will be honest, at first, I was excited about the idea of an audio app creating realtime chat rooms. That was before news of its creators started getting out and conversation from the closed beta leaking. And now, Clubhouse earned this headline: A Clubhouse conversation has sparked accusations of anti-Semitism. [The Verge]
🌐 A quarter of US adults get news from YouTube. A new study from Pew Research Center finds growing influence of YouTube over news distribution in the U.S., as well as its consumption. [TechCrunch]
This study found that a majority, or 72%, of Americans said YouTube was either an important (59%) or the most important (13%) way they get their news. Most also said they didn't see any big issues with getting their news from the site, but they did express some moderate concern about misinformation, political bias, YouTube's demonetization practices and censorship.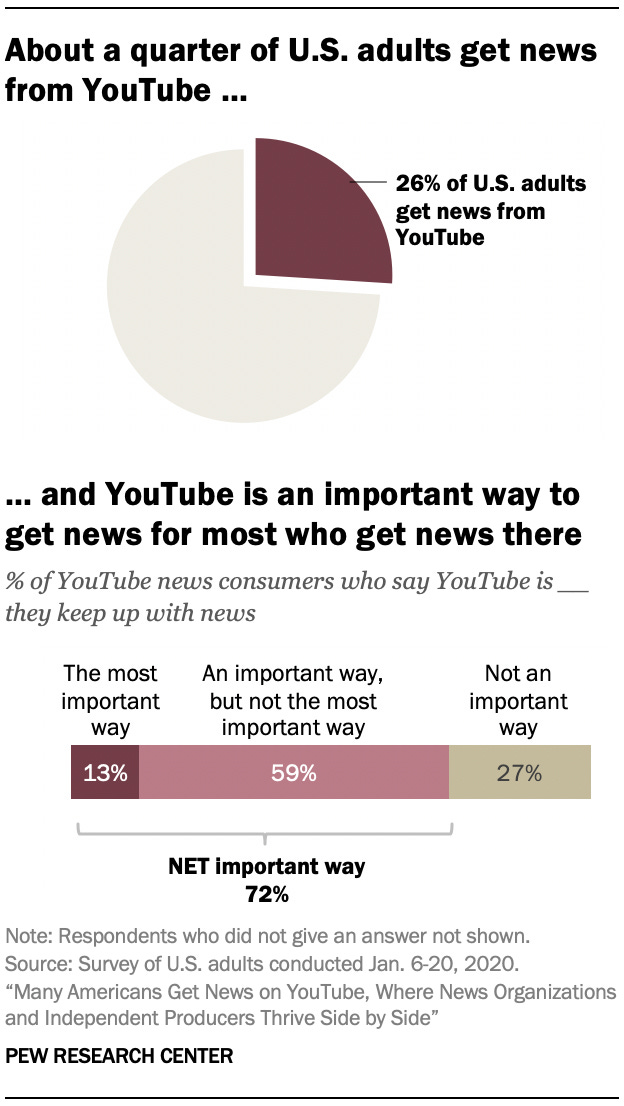 👏 Good news: Sweden's Dagens Nyheter is on course for its best financial performance since 1990s. The newspaper says it is thanks to a rise in digital subscriptions since the start of the pandemic. Dagens Nyheter has 208k digital subscriptions, 144k print subscriptions and 77% of revenue comes from subscriptions (15% pure digital). How didi they manage to do it? Free trials, registration wall for open content about pandemic and frictionless payment solution (using Klarna). Sounds simple, right? [Financial Times]
---
AUDIO & PODCASTING
🎧 Learn how to podcast with free courses from Podiant. [Podnews]
UK-based podcasting platform, Podiant, has launched a brand-new Podcasters' Hub including free online courses to help those looking to start on their podcasting journey, from the planning process to the equipment and software needed to get to episode one. The Hub also includes industry insights and information to help seasoned podcasters up their game, or get more out of their hosting service.
How to grow a podcast with email marketing. Mark Asquith of Rebel Base Media, the podcast tech company, is intereviewing Kelly Forst, a growth-marketing expert at AWeber, an email marketing platform. [YouTube]
🎙️ BBC Sounds app will begin to be made available to download on international app stores. [BBC]
Here in the UK, BBC Sounds is now one of the most popular audio apps available, and just had its best quarter ever. We're seeing around 3.5 million people a week listening to the BBC on Sounds across the app, website, connected TVs and voice-activated devices – more than we've ever seen before.
😎 NPR Podcast Report 2020. Here is an interesting slide from the report: Slightly more people listen to podcasts but overall NPR podcast consumption has risen significantly during the pandemic. [NPR]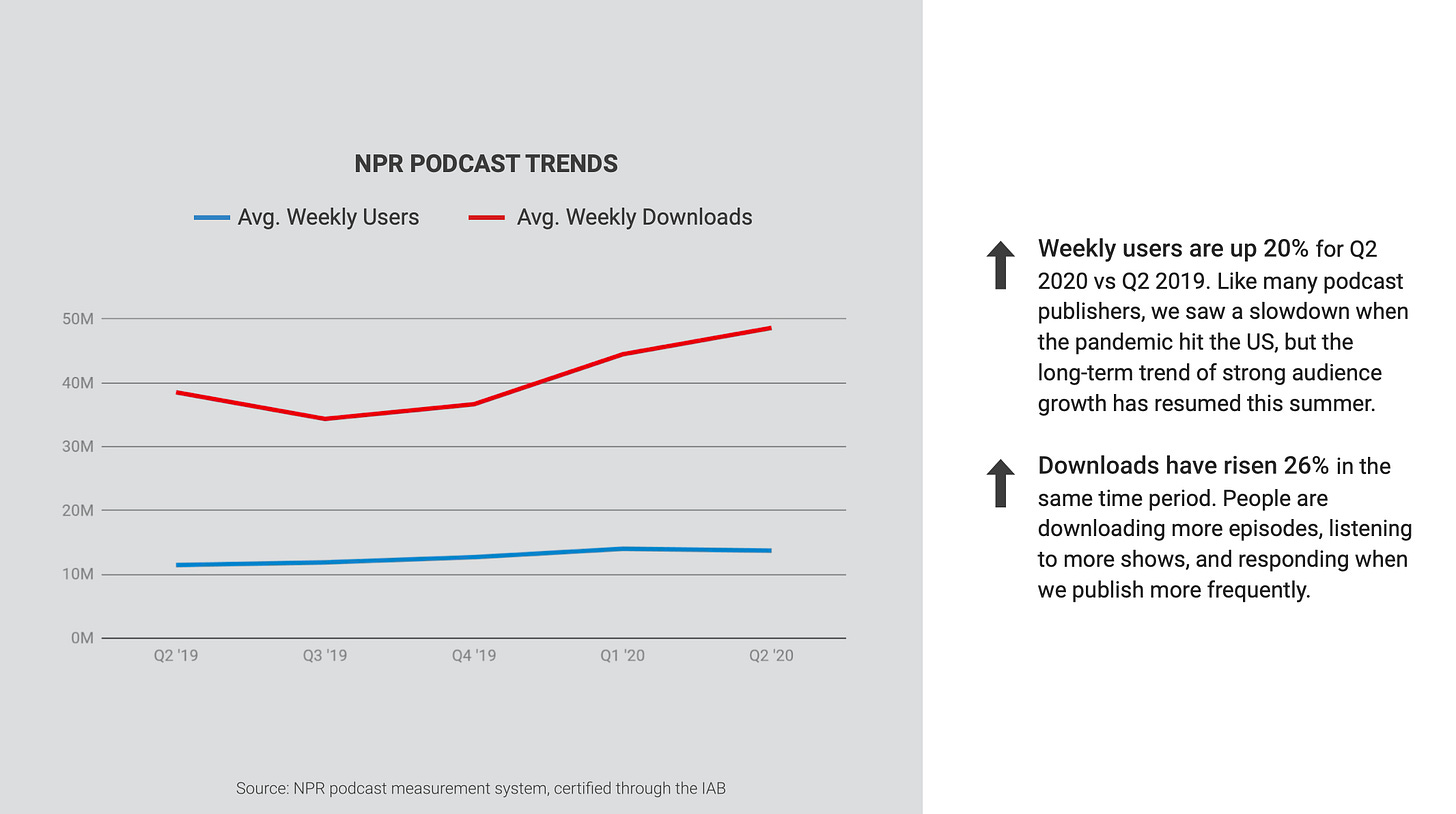 ---
Catch me on Twitter or LinkedIn. Was this forwarded to you? 👉 Subscribe over here.