What's going on inside Facebook and why should you care
The current fight inside the world's largest social network will shape a lot of things.
Welcome to the FWIW newsletter about tech, media & audio written by David Tvrdon. 🌐 Read it online and 👉 be sure to subscribe, if you were forwarded this newsletter.
In this edition
👎 Facebook, Trump & free speech
🔖 Internet Ad Revenue Report
💬 Other tech & media news
Mark Zuckerberg vs. the world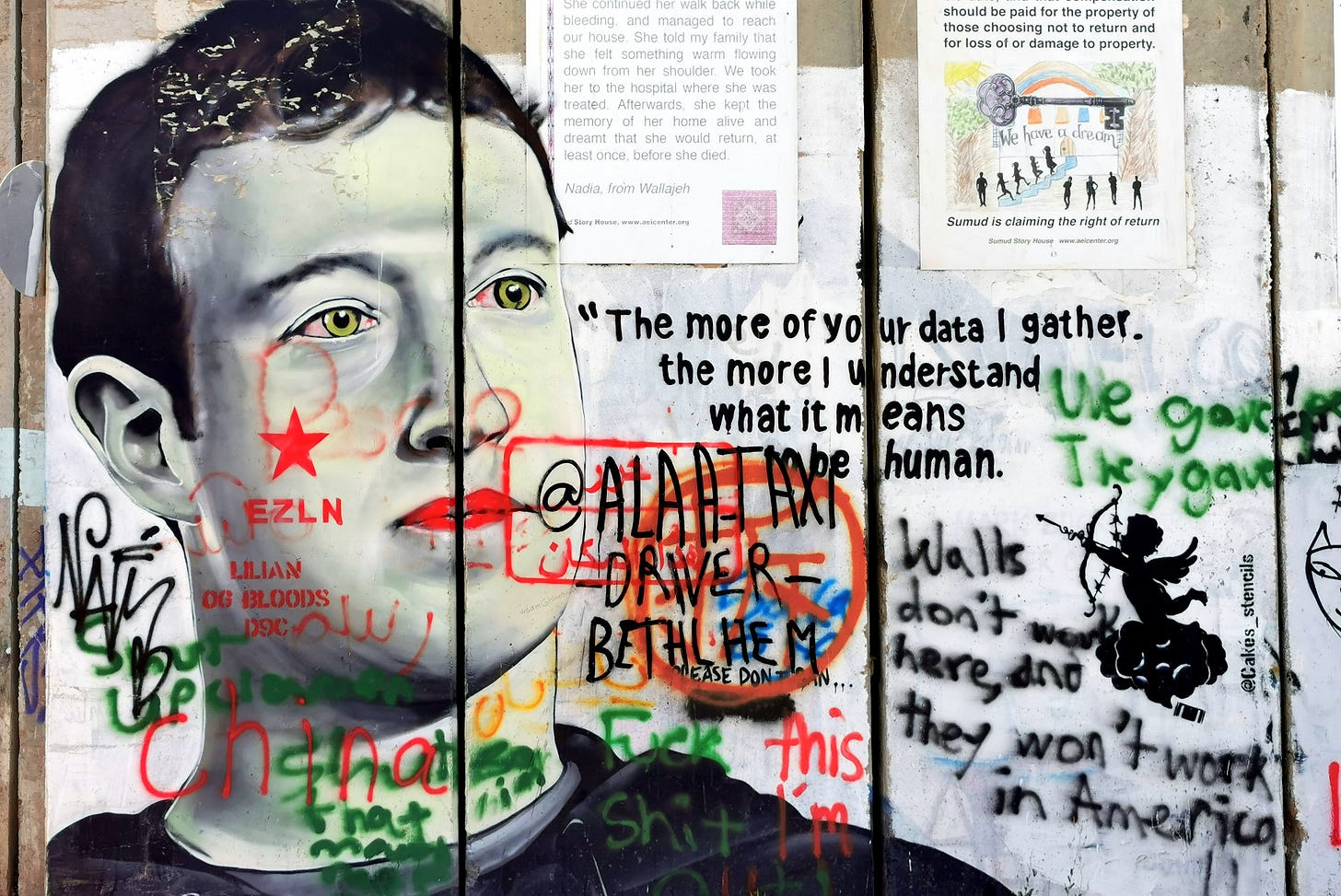 What happened? It all started with Twitter labeling Trump's Tweets, fact-checking them, or hiding them as inappropriate. Mark Zuckerberg repeatedly spoke up against such practices, even told Fox News this:
I just believe strongly that Facebook shouldn't be the arbiter of truth of everything that people say online.
Hundreds of employees staged a virtual walkout to protest that the company didn't delete posts from President Trump, which are copies of the Tweets Twitter labeled.
"The hateful rhetoric advocating violence against black demonstrators by the US President does not warrant defense under the guise of freedom of expression," one Facebook employee wrote in an internal message board, according to a copy of the text viewed by The New York Times.
In a question-and-answer session with employees conducted over video conferencing, Zuckerberg tried to explain his position on why the social network left Trump's posts without adding a label or deleting them. He took questions from employees and they appeared to be mostly upset and not happy with the explanation.
Barry Schnitt, a former spokesperson for the social network, wrote on Medium the stakes are too high for employees not to advocate for change:
I'll start with my own admission. In 2009, I said, "We believe in Facebook's mission that giving people tools to make the world more open is a better way to combat ignorance or deception than censorship." It turns out that I was wrong. First of all, it's a false choice. There are more options than just being "open" and "censorship." Most importantly, though, it's become obvious in the 11 intervening years that the opposite is actually true. The more successful Facebook is in accomplishing its mission, the more ignorance and deception there appears to be in the world. There is definitely a correlation here. Unfortunately, I also believe there is more than a little causation.
My take: Twitter started something Facebook could actually follow and do better on a bigger scale because they have the resources for it. I think Mark Zuckerberg knows this. Though it's a tricky business. In the past, Facebook had to draw a line in content moderation somewhere and it ended up firing Alex Jones from the platform, so some rules already apply.
The current situation is like Zuckerberg standing underneath a huge waterfall which is stopped by a tap and everyone is looking at him to turn that tap. Facebook is a private company and Zuckerberg with his total dominance of the social network can do whatever he pleases and no one can stop him.
That said if you leave up content which is clearly upsetting a lot of your users, media, and even employees you could end up alienating some of them for good. And some will stay and wait for the right occasion and right competitor to jump the ship.
In the end, you are creating an environment where your users are not feeling happy and safe because of the content surrounding them. Of course, it takes an ungodly effort to moderate 3 billion people. I know it, I work in media and we do this every day. And yeah, it's crazy hard to scale.
Internet advertising revenue report: Full-year 2019 results & Q1 2020 revenues
📷 by Fabian Blank on Unsplash
Check out the whole IAB report over here.
Key trends underlying FY 2019 results
More advertising dollars continue to be spent on the internet, far greater than any other media. Internet advertising revenues in 2019 continued to show impressive growth at 15.9%, reaching $124.6b. This number is $17.1 billion greater than the record setting growth experienced in 2018.

This is the first year we saw a shift towards slower growth than in prior years. While the rate of growth appears to be slowing, as 2019 marked the lowest growth rate since 2012, it is still growing at a remarkable 16% and has on average remained a double-digit growth rate for more than two decades. Though internet advertising may be slowing, it's still being supported by second generation social media companies that will continue to spur innovation and gain market share and dollars.
Here are some interesting bits from the report, I am not including everything as there is a lot of information.
Slower growth in Q1
Q1 2020 revenues mark the slowest year over year quarter growth since 2010 when revenues increased 8.6% from the prior year.
Mobile growth remains strong
Mobile internet advertising revenues increased by 24.0%, growing its share of total revenues from 65.1% in FY 2018 to 69.6% in FY 2019.
$7 out of every $10 is derived from a mobile device
In 2019, internet audio advertising revenue reached $2.7 billion
In other news
TECHNOLOGY
🤑 Zoom FTW. The videoconferencing company has reported massive gains on the quarterly call. Zoom revenue grew 169% this quarter to $328 million. It earned $27 million, versus only about $200,000 in the same quarter last year. Zoom's market cap is now nearly $60 billion (that's three times higher valuation than it was at the beginning of the year). Fun thing: Zoom CEO Eric Yuan during the conference call forgot his mic was muted and kept talking for a while. Happens to all of us. [CNBC]
🥊 Sometimes a beef with the president is good for you. Especially, if you are the social media dearest to the president's heart. We are talking obviously about Twitter which is being praised after actions taken against the president's Tweets. Aside from the debate whether this is good or bad, Twitter has clearly got a problem - the social network grabs much more attention than it generates revenue. Meaning there is a problem with the monetization of eyeballs. Something similar has happened to the internet or mobile - in the beginning, people spent more time on the medium and there was less ad revenue. [Bloomberg]
"Look at how much he uses Twitter," said Rich Greenfield, an analyst at Lightshed Partners for Bloomberg News. "Advertisers want to be where eyeballs are, and people are turning to Twitter for this news."
Go deeper: The New York Times has the inside story of how Twitter finally decided to label Trump's Tweets. Inside the company, one faction wanted Jack Dorsey, Twitter's chief, to take a hard line against the president's tweets while another urged him to remain hands-off. [New York Times]
🙈 Google faces a $5 billion lawsuit for tracking people in incognito mode. "Google tracks and collects consumer browsing history and other web activity data no matter what safeguards consumers undertake to protect their data privacy," reads the complaint. [CNET]
🛒 Fastest growing e-shops. In exclusive data shared with Retail Brew, SimilarWeb ranked the 25 e-commerce sites that experienced the most traffic growth in May. The winners were streaming and redecorating websites, but also skating online shops. [Morning Brew]
---
MEDIA
How Civil, the blockchain experiment for news, failed. Poynter published another "lessons learned" report on the demise of Civil (there was also this a comprehensive piece for Study Hall). The reactions I have seen in the media circles were mixed from the beginning. On one hand, Civil was praised for trying something new and giving news orgs money with no strings attached. On the other hand, there were clearly operational issues with the whole project and remains a little bit of mystery how it should have operated in the end. [Poynter]
The Stitcher podcasting report. (Stitcher had in 2018 more than 8 million registered users) Some interesting takeaways: Two-thirds of podcasts on Stitcher are streamed rather than downloaded. Episodes are getting shorter in general. Mini-series podcasts are growing in number and in popularity as well. [Medium]
Space Force TV show is watchable. I watched the new TV series as it came out, but honestly, it was underwhelming. There is clearly good acting involved but the script isn't super funny. All in all, it's watchable. [Netflix]
---
OTHER NEWS
🚀 I have been watching this over and over again.
---
Catch me on Twitter or LinkedIn. Was this forwarded to you? Subscribe over here👈