The 'Work from home' dilemma
We are about to find out whether work from home could actually work on a global scale.
Welcome to the FWIW newsletter about tech, media & audio written by David Tvrdon. 🌐 Read it online and be sure to subscribe, if you were forwarded this newsletter.
In this edition
🏠 Let's talk about work from home
👀 A new study says there is too much content nobody is reading
💬 The rest of the news in short bites
---
We are about to find out whether work from home could actually work on a global scale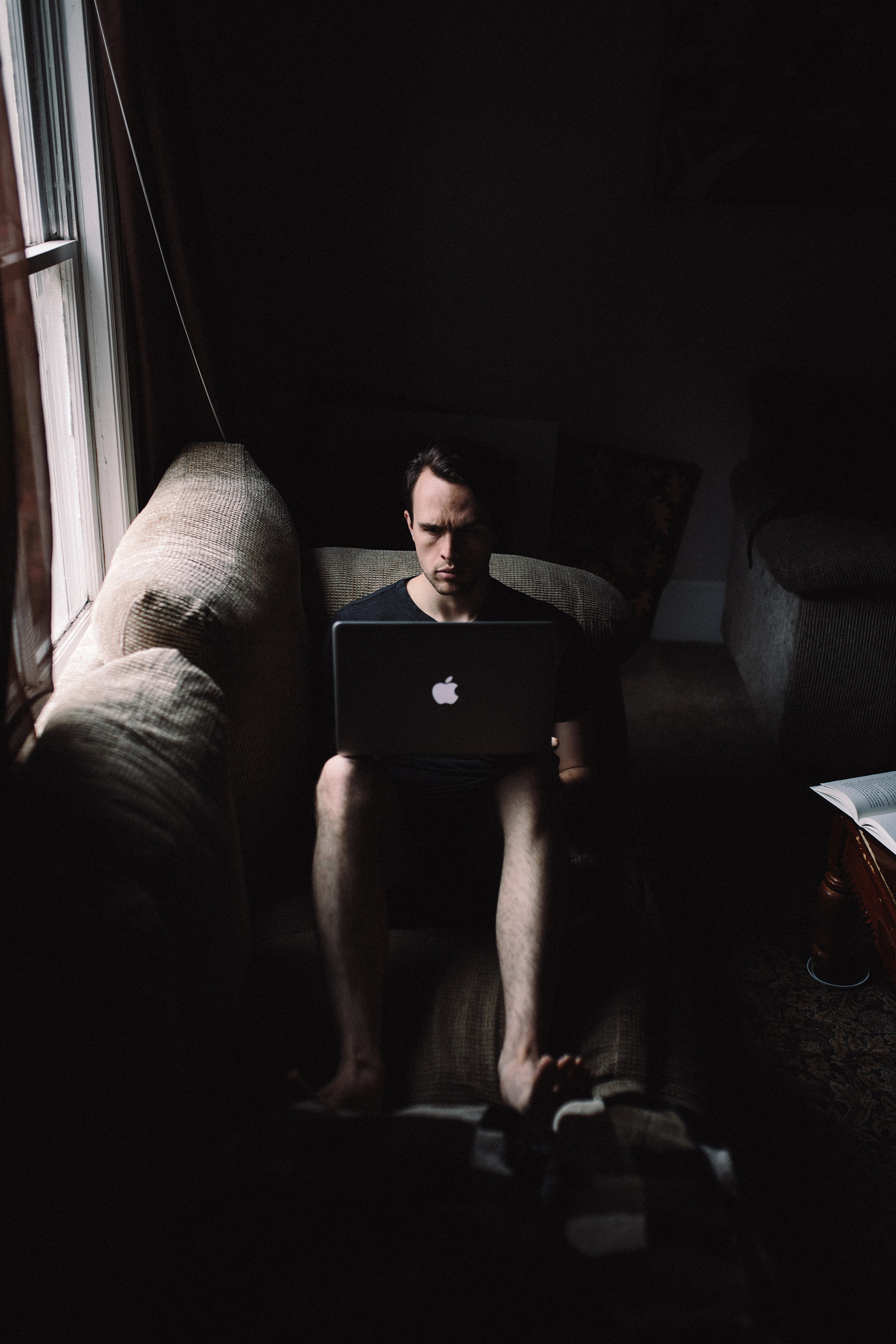 📷 by Andrew Neel on Unsplash
Since the coronavirus outbreak, there has been an endless stream of news of different tech companies (not only) telling their employees to work from home, cancel the in-person meeting and use video chat.
At the same time, there has been a lot of discussions around work from home. Some of them were kind of useful (How to work from home), some funny but spot on (How to hide your messy room for a Zoom video conference) and some just described the bleak reality of home prison (I've been working from home for eight days. The Netflix-and-quarantine life is not that chill.; Sorry, but Working From Home Is Overrated).
Unforeseen consequences. With WHO declaring the outbreak of the new coronavirus as a pandemic, there will likely be more and more workers staying and working from home. According to Bloomberg, we should not see an internet breakdown though there will be disruptions.
"The weak link in the chain, where the system could get overloaded, is going to be the home broadband network," said Lisa Pierce, a network expert with Gartner. "People will hit congestion, just like a highway, where the speed goes from 60 miles an hour to 20." Residences and neighborhoods served by lower bandwidth cable and copper-wire connections will be among the first affected. Whole families sharing a single Wi-Fi signal, all logging in at once to work or firing up TVs and tablets to stay connected and entertained, should also expect delays.
In the US 29% of the workforce had the ability to work from home according to 2017-2018 data. In the European Union, this number has been around 15%.
What to do about it? The upcoming pandemic will seriously test the presumption that work from home is for anyone and any company willing to put it to test. Not everyone is ready for it and many will be forced to do so.
What else? As people eat out less, food delivery startups surge, writes Fortune. On the other hand, you have Wired asking whether it is ethical to order delivery during a pandemic?
The answer is complicated, people don't go so much to the restaurants therefore many are left with the food delivery option to make a living. But, health experts at the CDC estimate that 70 percent of food-borne illnesses—not just the coronavirus, but things like the flu—can be traced back to sick food service workers. It's a dilemma with no clear answers.

There is too much content on the web nobody is looking at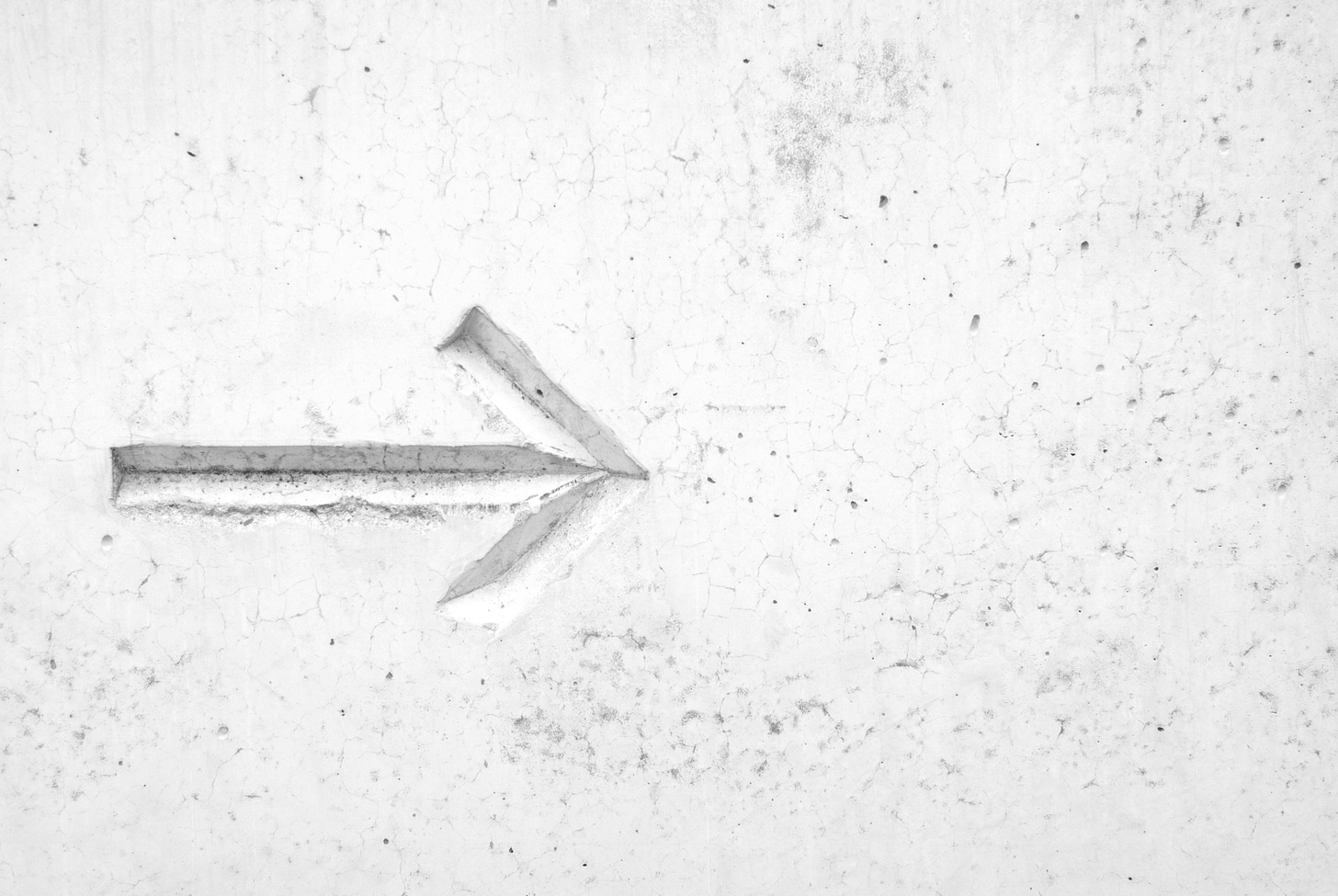 📷 by Hello I'm Nik 🍌 on Unsplash
In February Digiday published this widely circulated piece on how publishers are growing audiences by producing less content.
Publishers including the Guardian, News UK's The Times of London and Le Monde have trimmed the number of articles they publish, leading to a growth in audience traffic, higher dwell times and ultimately more subscribers.
Media analyst Thomas Baekdal also wrote an extensive report on the topic coming to the same conclusions. The theory is quite simple - analyze all your content, sort the articles in different groups according to their return (drives a lot of page views, a lot of time spent, sells a lot of subscriptions) and you will see in the bottom lines of that excel file those underperforming pieces.
It turns out, this is not only a headache for news publishers but the whole internet. According to a new report from Contentsquare, 69% of all web content is not seen by consumers.
We calculate this by comparing the total number of pages on a site with the pages not viewed by 95% or more of traffic, leaving a total of 69% of all content unseen across all industries. This is particularly notable in the Financial services (75%) and beauty (74%) industries where three quarters of the website is unseen by users.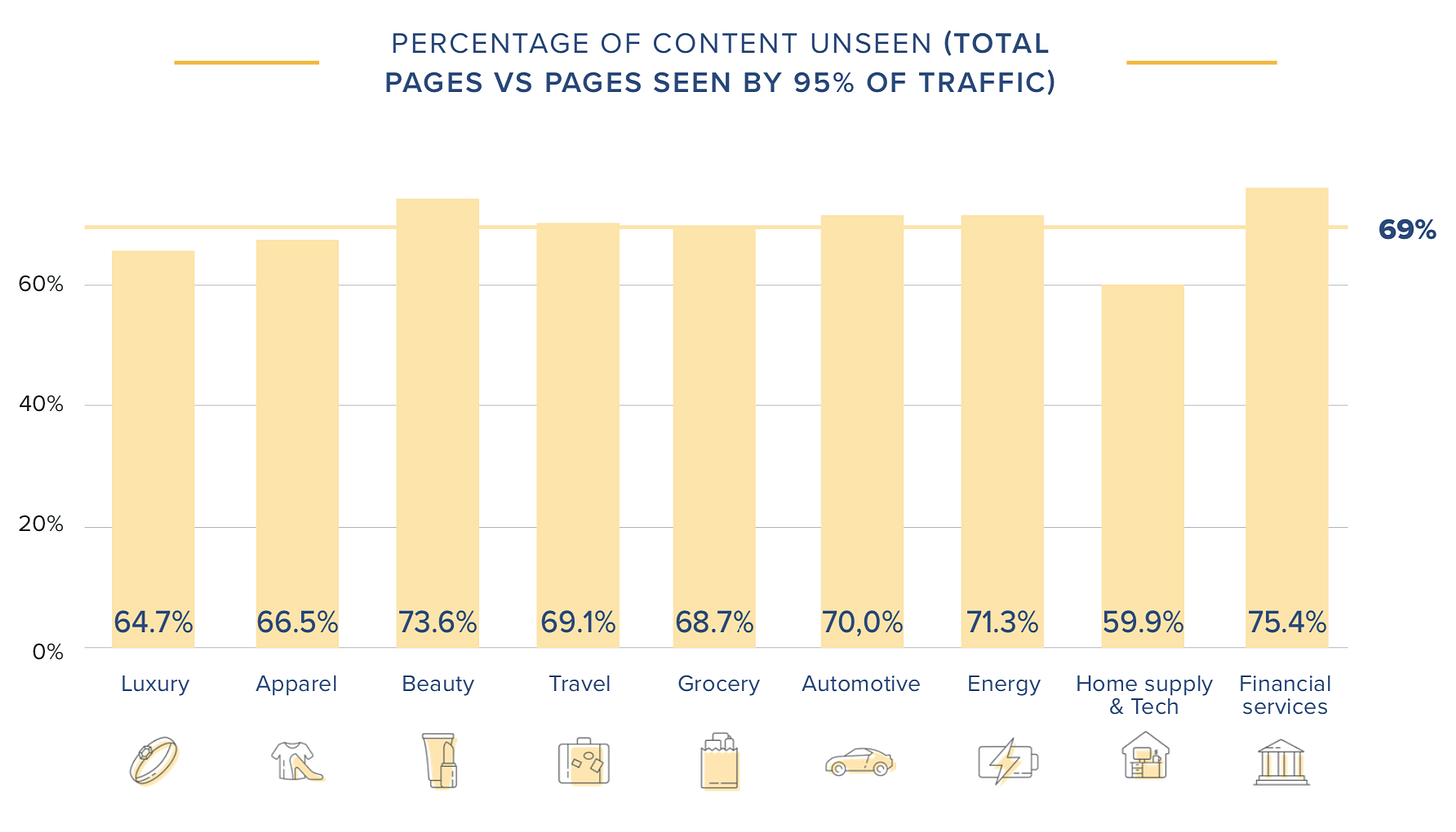 What does it mean? If you have an online business and you rely (as many nowadays) on content marketing, the lesson should be to make an audit of your content, similar to what news publishers have done (and many should do).
Once you have identified the content driving return for your business rather than creating a lot of it, the report suggests prioritizing and optimizing that great content. Those are the entry points for your sales pitch.
More data. In the report, other interesting data points are worth checking out too. I am not going to get deep into them, just throwing here a few slides which speak for themselves.
There is an often-cited myth around spontaneity in customers' online behavior, with a tendency to make impulse purchases. But our data shows that the average customer visits a website three times before making a purchase.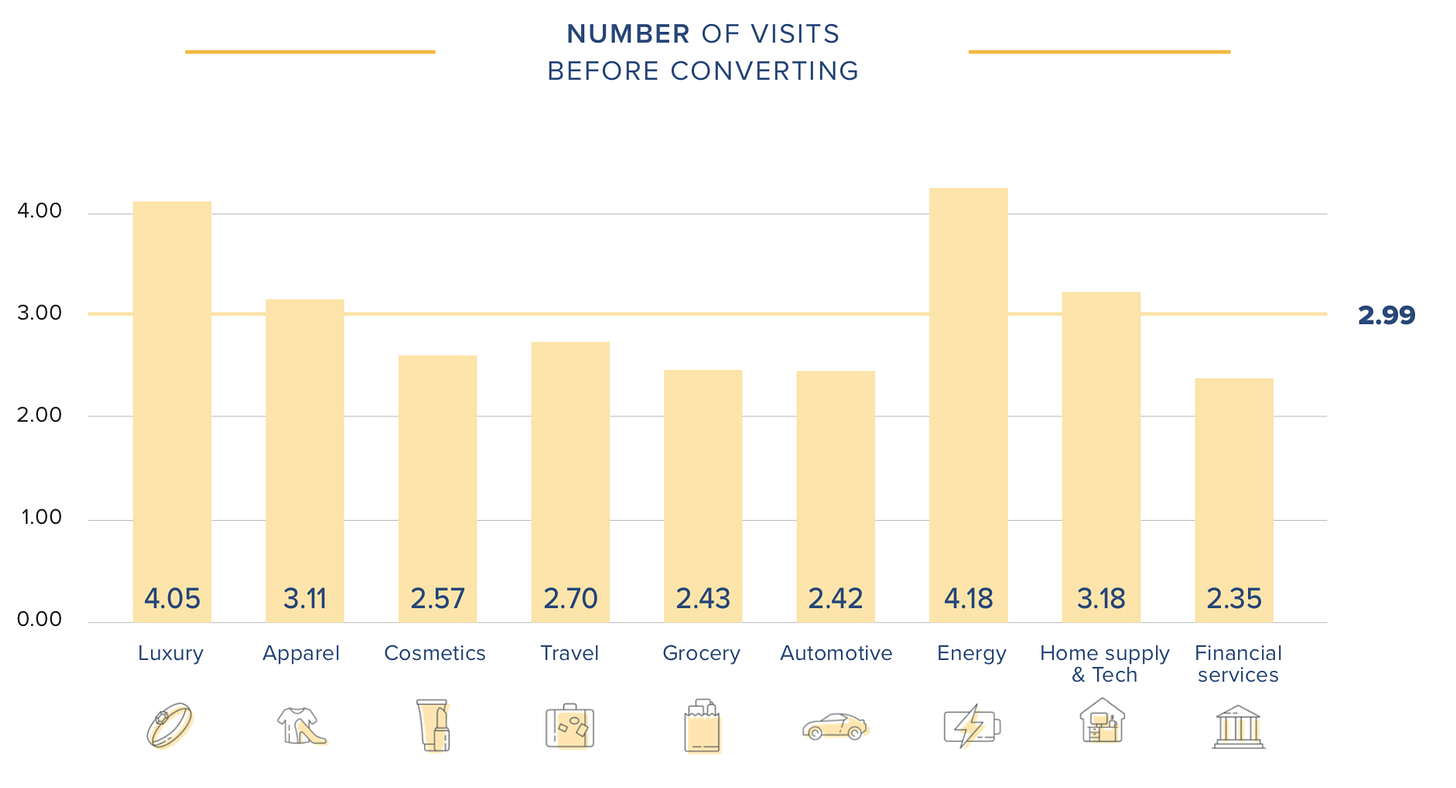 Whilst there is no right or wrong (every business is different after all), from the comprehensive data we have at our disposal, we can see that the average desktop conversion rate across all industries is 3.5%, with mobile conversion roughly half as much, averaging at 1.7%. Mobile conversion rate is a pain point for all industries, but less so during peak sales periods - the feeling of urgency helps closing the conversion gap between the two devices.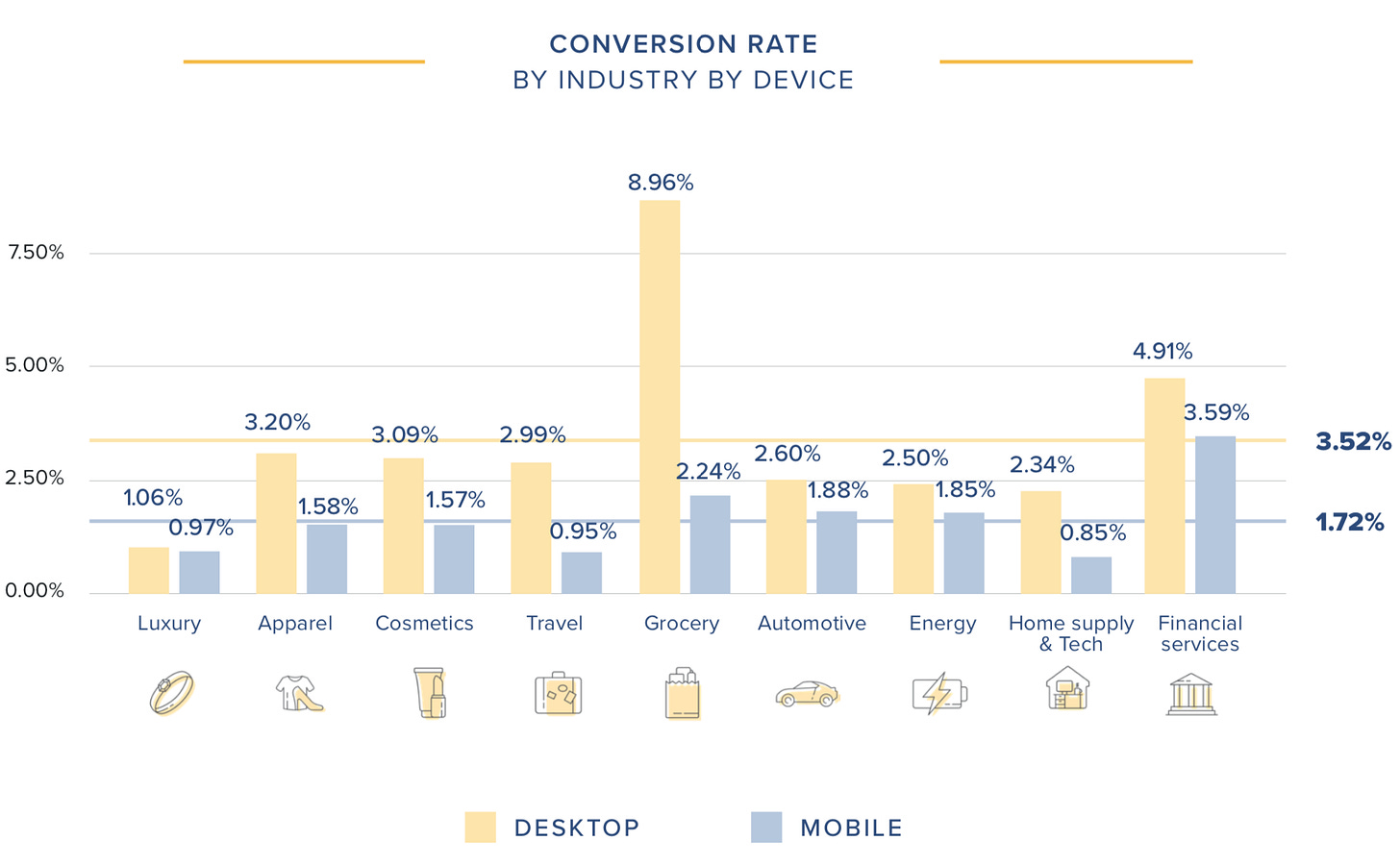 Earned traffic is the backbone of any website, and it doesn't depend totally on budget. In fact, 65% of web traffic comes from earned sources cross-industry. This can mainly be explained by long-term brand familiarity, repeat visits for regular purchases, and good brand awareness (think organic search, direct traffic, referrals, etc).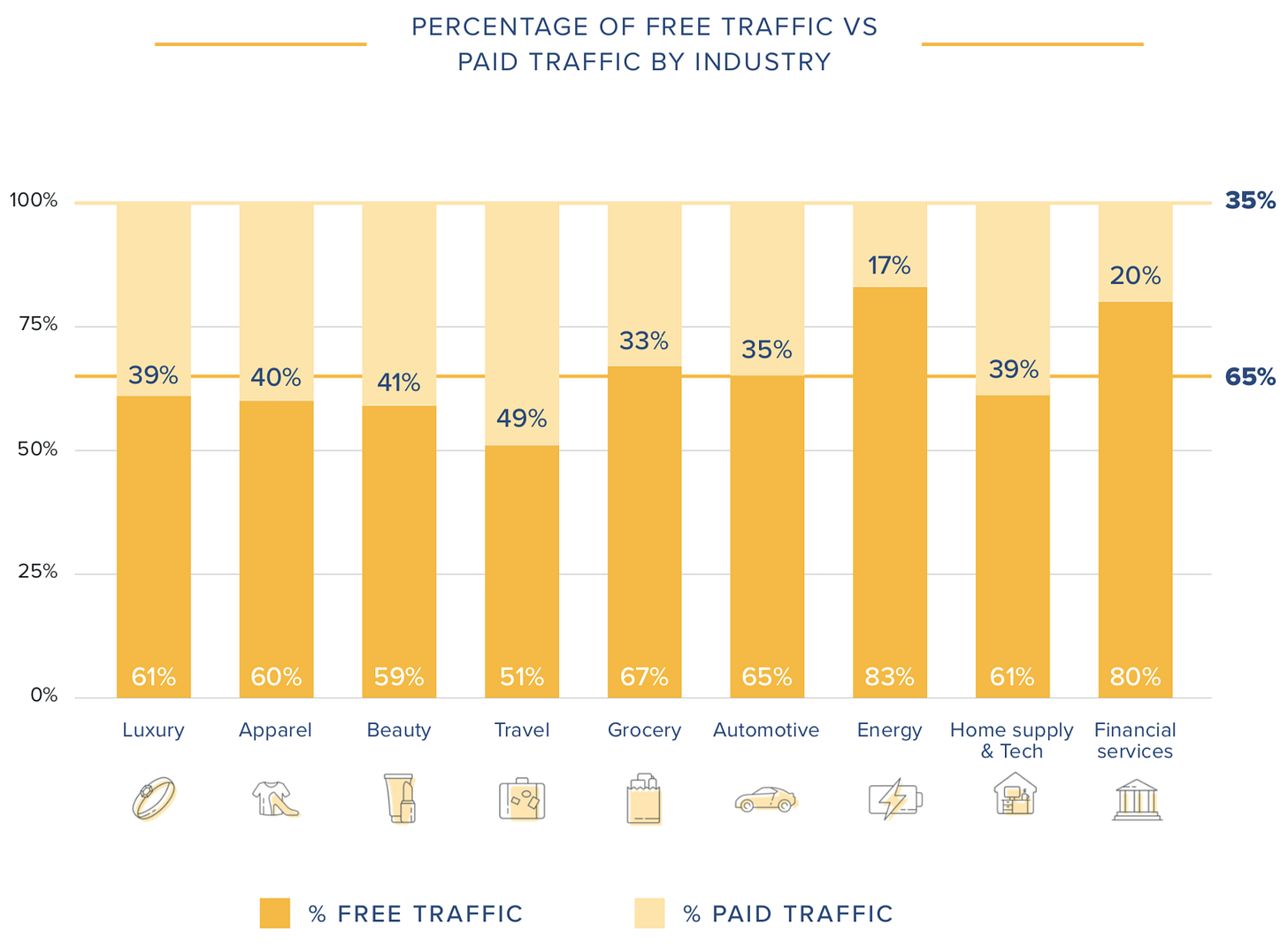 In other news
📍 Pinterest surpassed Snapchat as the third-biggest social media platform in the US in 2019. According to the latest report Pinterest is projected to stay ahead in the coming years. Also, eMarketer projects a continued decline for Instagram. US user growth fell to single-digits, for the first time ever, in 2019. [eMarketer]
🎧 Why is Sony Music investing so much in podcasts? Sony has been investing in podcasting quite a lot, setting up deals with podcast studios (both in the US and UK). Author Cherie Hu writes "Sony Music's foray into podcasting is a direct — and in many ways competitive — response to Spotify." And if you are asking why would the podcast production companies work with Sony Music, there is an answer for that as well - huge PR and marketing resources. Also, if you want to get deeper on this issue, I recommend Peter Kafka's Recode media podcast with Adam Davidson, the CEO of Three Uncanny Four, which is one of the partners for Sony. [Water & Music newsletter]
🔮 What is the most important media business of the future? Venture capitalist Matthew Ball writes about past and future media businesses. Here's something worth reminding ourselves regarding Disney:
What is the strongest, most profitable, most defensible part of Disney's business in the digital era? Its capex-heavy, physical theme parks. There is no simple way to quantify how important this business unit is to Disney. The financial role is obvious. Disney's Parks & Attractions segment generates nearly 100% more revenue and 60% more profit than Disney's studio division (which already generates nearly three times the revenue AND three times the gross margins as its primary competitors). By turning hit films into theme park attractions, not only does Disney generate more "upside" from a hit than its competitors do, Disney's breakeven point for these films is also much lower.
Though Ball does not suggest building theme parks, he says media companies should be building digital theme parks á la Fortnite, Minecraft, Roblox. And also explains why 👇 [MatthewBall.vc]
These titles offer many unique advantages compared to their analogue analogues. For example, they are always "open", "everywhere", "full of your friends", and impervious to COVID-19. These games also boast an even larger (i.e. infinite) number of attractions and rides, none of which need be bound by the laws of physics or the need for physical safety, and all of which can be rapidly updated and personalized. These digital parks also allow for much greater self-expression (e.g. avatars, skins).
⚔️ CMS wars. If you are not in the media business, this might not interest you that much, if you are, I reckon you feel pain using your own content management system (CMS) almost daily. I feel you. Currently, on the market, there are quite a few options outside the (not-so-great) idea of let's make our own CMS. You have the Arc by The Washington Post, Chorus by Vox, Axios is looking to sell its newsletter software, there's the NewsCatalyst or more recently the Google & Wordpress supported NewsPack (personally my favorite). Jacob Cohen Donnelly also looked at this and says that only a tiny number of publishers can sell technology. Let's be honest, it's not in the media DNA. [A Media Operator]
---
Catch me on Twitter or LinkedIn. Was this forwarded to you? Subscribe over here👈