Discover more from FWIW by David Tvrdon
Your weekly one-stop-shop for tech, media & audio news, plus smart, entertaining commentary. No more cluttered websites or quests to find quality journalism - get it all delivered direct every Thursday without pretence, jargon or pesky abbreviations.
Over 1,000 subscribers
It's all connected
(Qualcomm, Huawei, Trump, TikTok, Apple, App Store…)
👋 Welcome to the FWIW by David Tvrdon, your weekly tech, media & audio digest.
🌐 Online version. 👉 Be sure to subscribe, if you were sent this newsletter.
---
In this edition
😕 It's all connected (Qualcomm, Huawei, Trump, TikTok, Apple, App Store…)
📱 Microsoft's Surface Duo
💬 Other tech, media & podcasting news

Three stories show how it's all connected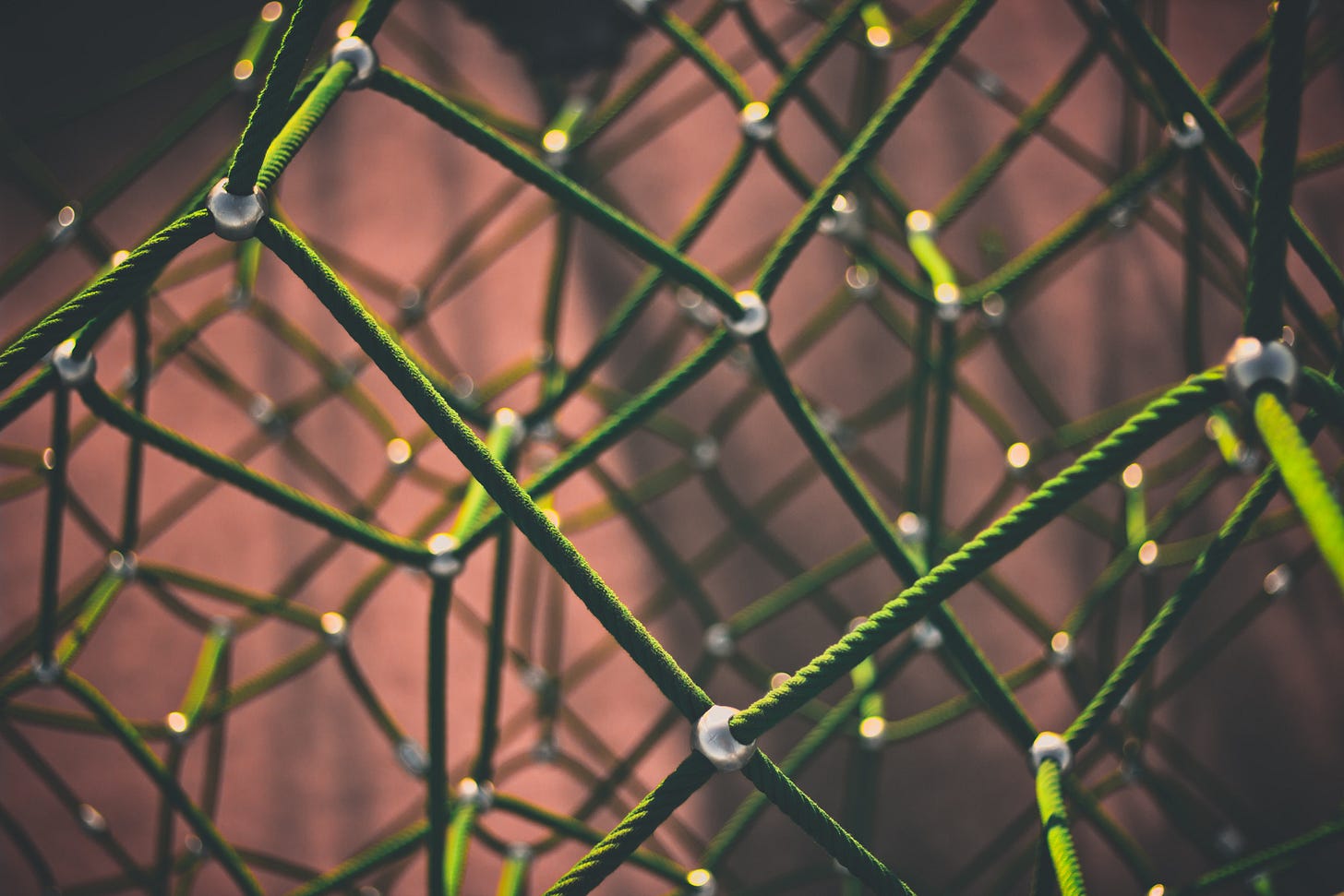 📸 by Clint Adair on Unsplash
Three stories from the past week:
Qualcomm, the American chip company, is lobbying the Trump administration to roll back restrictions on the sale of advanced components to the Chinese telecom giant Huawei Technologies Co., wading into the intensifying technology battle between the U.S. and China.

Qualcomm is telling U.S. policymakers their export ban won't stop Huawei from obtaining necessary components and just risks handing billions of dollars of Huawei sales to the U.S. firm's overseas competitors. [The Wall Street Journal]

WeChat is not just an app, it's an operating system inside your phone. There are millions of people, for whom WeChat is a must-have app on the phone. If iPhones won't run the app, Apple is in trouble.

Ming-Chi Kuo, the Apple analyst, predicted iPhone shipments in China could go down 25-30% if Apple has to remove WeChat from the App Store. This is related to Trump's executive order active from September 20th which forbids American companies doing business with WeChat and TikTok owners (Tencent, ByteDance). [Protocol]

Apple's App Store policy ban for Facebook, Microsoft, and Google gaming platforms could blow up as there will be a reason you will not buy an iPhone for your gaming-loving child. Also, with all the computing happening more and more in the cloud you might not need to change your phone every two years. You will have to change the battery but that's it. We can talk about cloud safety though this trend is inevitable. [The Verge]
All these stories show is that rarely in our interconnected world does something happen in a vacuum. Yes, I know, nothing new here. But I think that's OK.
Sometimes you have to look at different stories that tell you the same thing you already knew.
My point is that tech regulation done in a rash manner could backfire and have unintended consequences. And the same might be true for internal policies that obstruct fair competition.

🙏 Liked it so far? ❤️ Support this newsletter by sharing it, thanks!

In other news
TECH
😎 Microsoft's Surface Duo arrives on September 10th for $1,399. Let's not focus on the price tag which immediately puts the phone into the most expensive category. Also, let's not talk about the quite smart industrial design which reminds me so much of the Westworld TV series. Looking at the main specs (two separate 5.6-inch OLED 1800 x 1350 px displays, 11-megapixel f/2.0 camera, Qualcomm Snapdragon 855, 6GB of RAM, and up to 256GB of storage, 3577mAh) this seems more like a tablet than a phone, especially that small battery is my main concern. Anyway, we have to wait for the first reviews and will know. [The Verge]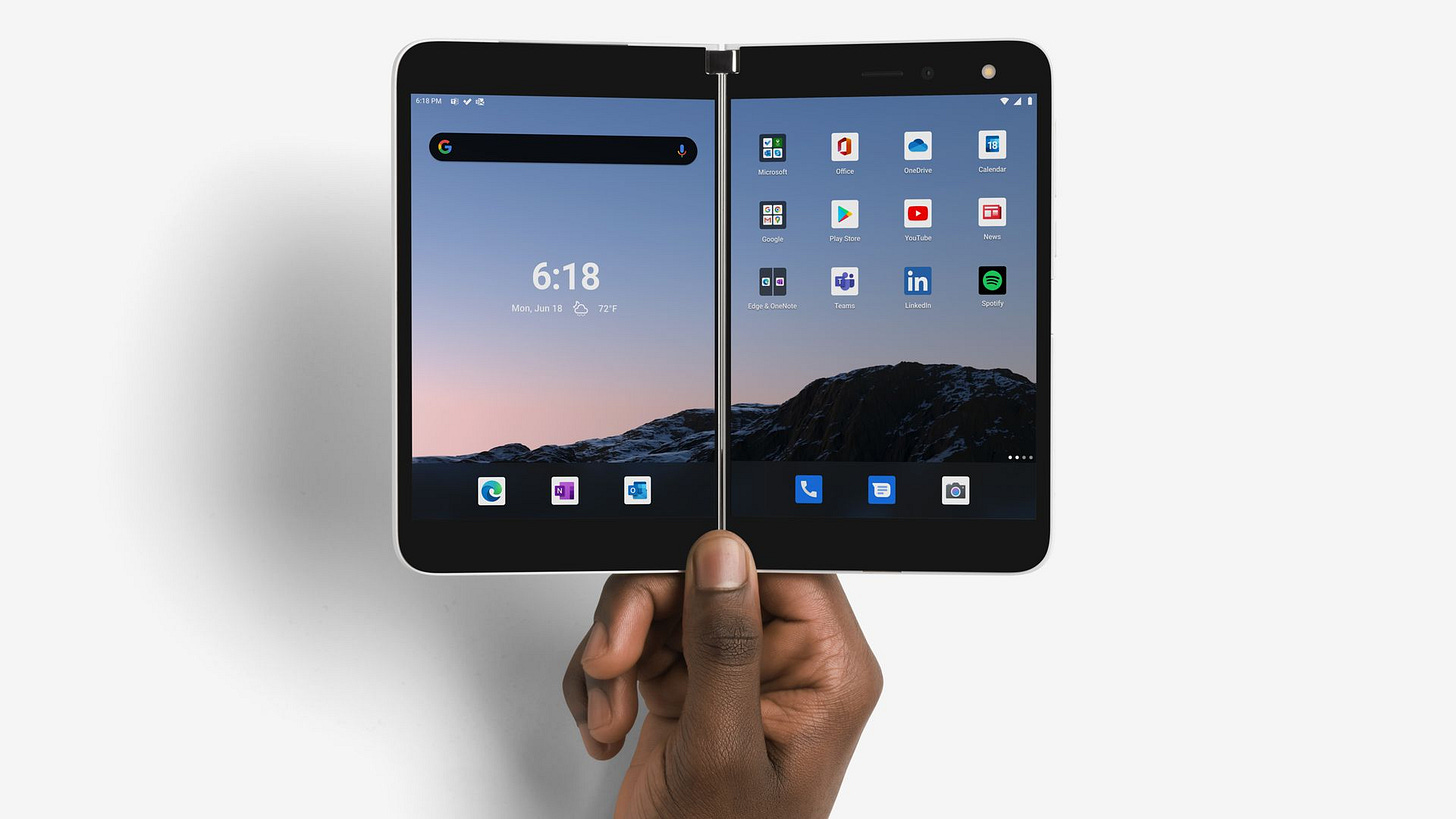 🔍 If given a clear choice, Google would still win, though with a 20% drop in market share. Privacy-first search engine DuckDuckGo is running a series on search preference menus (like the one in your browser you never think about and always opens Google). The data comes from a live large-sample user testing conducted with 12,000 people across those three countries. It shows that roughly a quarter of users (24% in the U.S., 24% in the U.K., 17% in Australia) would choose a non-Google search engine when given the chance to select a preference on their mobile phones. Given Google's current market share in mobile search: 95% in the U.S., 98% in the U.K., and 98% in Australia. The study also found that no matter how it ordered the choices, the vast majority of people still picked Google. [DuckDuckGo Blog]
DuckDuckGo's research proposed adding a screen to the Android setup process, where users would choose their search engine. Axios reported that DuckDuckGo has met with the DoJ this summer to make the case for this change.
🇧🇾 Belarus has shut down the internet amid a controversial election. The government claimed foreign cyberattacks were to blame, but security experts say it was orchestrated by the government. [Meduza]
"Sadly, the policy of internet shutdowns is gaining popularity around the world," says Lukasz Olejnik, an independent cybersecurity researcher and consultant. "More and more governments either have or want to obtain such a capability, and it's technically possible to architect networks in ways that allow this."

Belarus has a fairly centralized internet infrastructure, making it relatively straightforward to pull the plug if you've laid the groundwork. State-owned companies control both the mobile data network and the country's interconnection points with the international internet. [Wired]
🤷🏿‍♀️ What does Kamala Harris VP for Biden mean for tech? Joe Biden has selected Senator Kamala Harris of California as his vice-presidential running mate. Both Wall Street and Silicon Valley were happy about it. When it comes to Big Tech, for example, Harris has been more moderate than others saying she agrees there needs to be regulation but is not necessarily for breaking them up. [New York Times]
🌍 Google is turning Android Phones into seismometers. Among a handful of new Android features launched this week, there was a clear headline-grabber: Google's new worldwide earthquake detection system and the new earthquake alerting feature. [TechCrunch]
How does it work? Whenever the phone thinks it has detected an earthquake, it will send that info to a central server, which then determines whether this was really an earthquake. For now, Google will only use this data to show information when somebody then searches for "earthquake" or a similar keyword. Over time, though, it expects to be able to send out alerts based on these phone-based systems.
⚙️ WordPress lite? Not really. Automattic launches P2, a WordPress-powered collaboration tool for remote teams. The website reads 'P2ing is the new working'. Automattic is marketing P2 as an email/Slack/Teams alternative. Some refer to P2 as a company intranet or Reddit-style forum. At first sight, P2 looks like a simple but powerful platform capable of many things. [VentureBeat]
🧟 The pandemic workday is 48 minutes longer and has more meetings. A study of 3.1 million people at more than 21,000 companies across 16 cities in North America, Europe, and the Middle East found that we log longer hours, attend more meetings with more people and send more emails. [Bloomberg]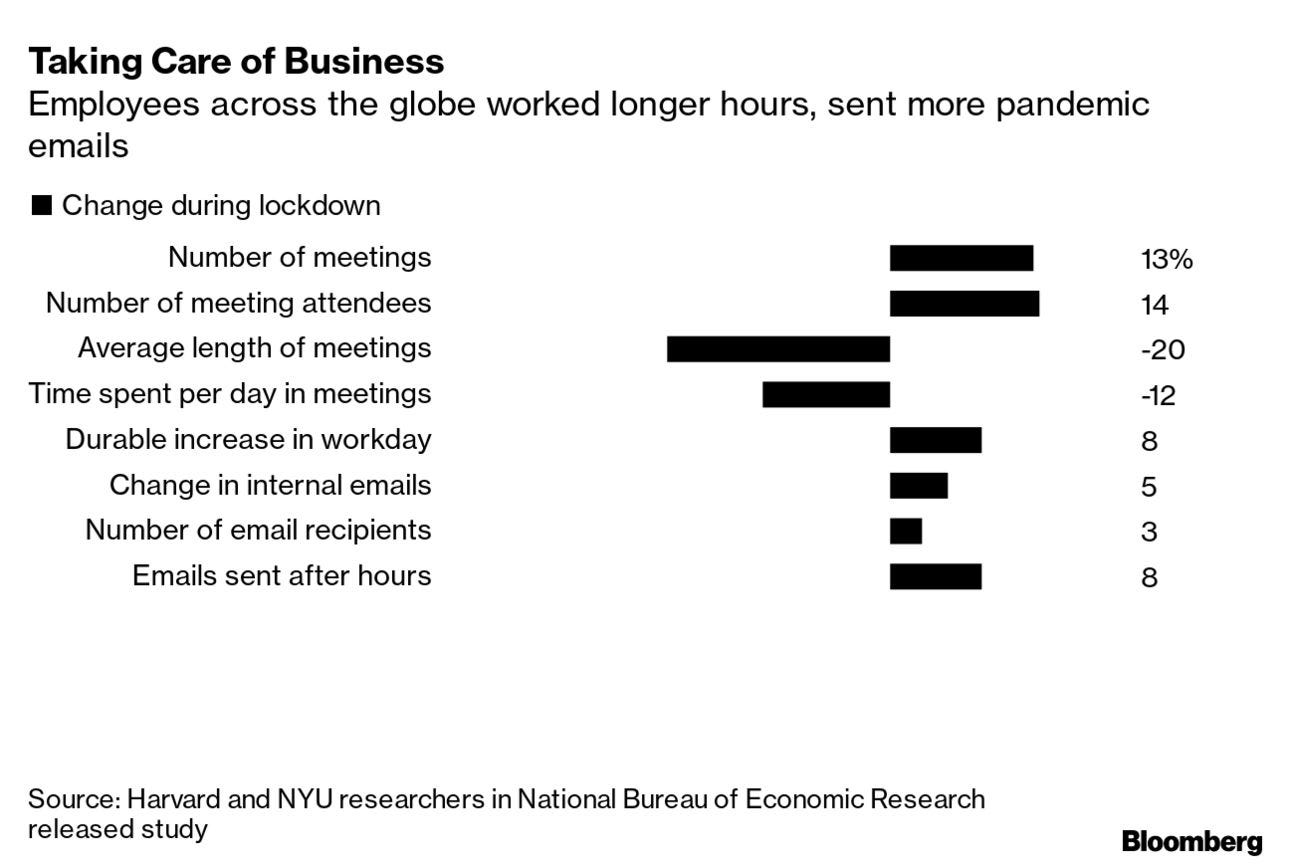 ---
MEDIA
🗞️ The outgoing New York Times CEO Mark Thompson opened up about his tenure and the future of journalism. Maybe you came across the widely circulated headline saying Thompson thinks there won't be an NYT print edition in 20 years. Though there are far more interesting bits from the two interviews (CNBC, McKinsey) he gave recently. He reflected on how digital subscriptions were not a hit when he arrived. Also, he said audio and podcasting pave the way to future habits of news consumption. [NiemanLab]
➡️ Unblock - a news digital magazine covering the 'Eastern Bloc'. Outriders, a non-profit media start-up based in Warsaw, turned a Facebook group into a digital magazine for Eastern European countries (Ukraine, Belarus, Russia, and other former Soviet Union countries). [The Fix]
👭 The 19th* is a new gender and politics news organization by women and for women. It presents itself as a nonprofit, nonpartisan newsroom reporting at the intersection of gender, politics, and policy. The newsroom is packed with longtime journalists and is funded by a mix of membership, philanthropy, and corporate underwriting. If successful, this could be a go-to example for other markets. Fingers crossed. [Poynter]
The name says it all, right down the asterisk. The 19th part comes from the 19th Amendment to the U.S. Constitution, which made voting a right regardless of gender. The asterisk shows the work left to be done.
🎥 Wondering to watch in August? IMDb has the list of 'Everything Coming to Netflix in August 2020'. After the success of the Avatar series, the sequel The Legend of Korra and after the successful acquisition from YouTube Cobra Kai will land on Netflix which will produce its third series. The list is long, so is the summer. [IMDb.com]
---
PODCASTS
💰 Google is all-in on audio advertising. Back in March, the company announced digital audio ads on its DoubleClick platform. Now, Google says after a successful test with TuneIn and Spotify they are adding new features and also announced they are running tests on podcast ads. [Google Blog]
🎧 Anchor continues on the quest to become a one-stop-shop for all things podcasting. Editing your podcast audio just got easier with Anchor's new waveform editor, now available on the web. The new editor allows you to visualize audio at a high level and zoom into granular moments — so, whether you're splitting your audio into multiple segments or just adding the finishing touches, you can intuitively edit your podcast exactly the way you want. [Anchor Blog]
🎙️ Podcasts on Amazon Music and Audible. Amazon sent out a confidential email to some podcasters providing them with a form to register their podcast on the Amazon audio platforms. Wait, did I say confidential? Well, you know how podcasters like to not keep things for themselves. Anyway, Twitter was full of screenshots and links to the form. Honestly, the form looks like from 90's internet but it's legit. [Add Your Podcast to Amazon Music and Audible]
🎬 Podcast tip. Season 2 of the Land of the Giants called The Netflix Effect ended. Now you can binge-listen the whole series. I follow Netflix closely though I learned a lot via this show. Lots of bits from the history of the company there.
---
OTHER NEWS
Annual revenue per employee for the tech cos in 2020 Fortune Global 500, ranked: Apple—$1.9m Xiaomi—$1.6m FB—$1.6m Alphabet—$1.4m HP—$1m MSFT—$873k Tencent—$869k Lenovo—$805k LG—$722k Samsung—$688k Cisco—$684k TSMC—$675k Intel—$650k Sony—$649k Huawei—$641k Dell—$559k
---
Catch me on Twitter or LinkedIn. Was this forwarded to you? 👉 Subscribe over here.