How IKEA failed the online test of COVID-19
Also in this edition: CEO of Netflix has a new book out, is Facebook a right-wing echo chamber, Xbox news and the date for Apple event is announced.
👋 Welcome to the FWIW by David Tvrdon, your weekly tech, media & audio digest.
🌐 Online version. 👉 Be sure to subscribe, if you were sent this newsletter.
P.S.: As I am just back from vacation, this week's newsletter is more just a digest without an original segment. But, I'm preparing a few longer explainers on different topics like antitrust, tech regulation, etc. Stay tuned.
P.S.2. The Microsoft Surcafe Duo reviews should be out today, haven't caught any of them before publishing.
---
In this edition
😕 How IKEA failed the online test of COVID-19
📕 Reed Hastings, CEO of Netflix, is promoting his new book, a lot
💬 Other tech, media, podcasting & gaming news

IKEA didn't pass the COVID-19 online test, yet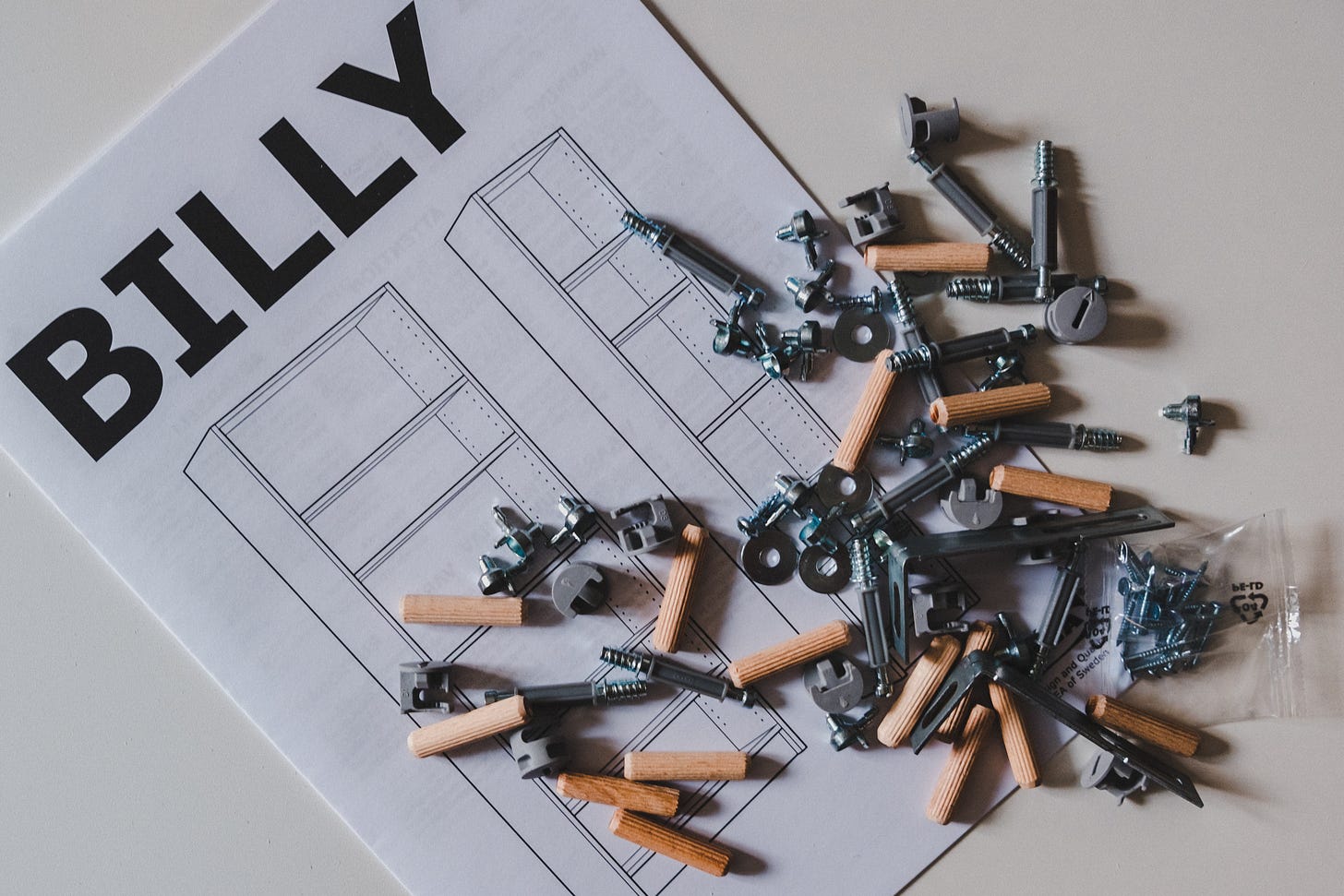 📸 by Semen Borisov on Unsplash
There aren't many large furniture corporations in the world that get the love of customers as Ikea does. There have even been studies named The "IKEA Effect": When Labor Leads to Love. The Swedish retail giant has been doing things very well for decades and spread all over the world.
But as the global pandemic struck, increasingly I started seeing stories like this one from The Wall Street Journal saying customers complain of delayed orders, undelivered furniture, and other issues.
The latest story comes from Fast Company. The report provides several examples of how customers waited for weeks and then a few days before delivery the order got canceled. Or in one case a customer rented a car to go collect an order (a 500 miles drive) and just 30 minutes before arrival it got canceled.
The problems boil down to a few things. Ikea's inventory management seems poorly updated. The company doesn't appear to know when many items will actually be replenished, and where. In some cases, it sounds like large swaths of items are simply listed as out of stock. When they are listed as in stock and buyable, their shipments are delayed for months, and then delayed for months again.
There is even a Reddit thread with hundreds of comments mainly bashing Ikea online services.
After reading these stories you quickly get the impression the company is very much a brick and mortar store first and the digital operation has been more like a necessary evil.
And this is not just about Ikea, though it is a very good example of how an underdeveloped e-commerce operation can hurt a brand.

🙏 Liked it so far? ❤️ Support this newsletter by sharing it, thanks!

In other news
TECH
⌚ Apple event announced for September 15th. What to expect? Well, that's a little bit tricky. Some say we will get new iPhones, iPad, Apple Watches, headphones, and a smaller HomePod. But lately, more and more insiders lean towards the idea we will only see new Apple Watches and iPad(s).
CNET has a pretty nice forecast of what to expect from Apple Watch Series 6 based on the latest watchOS update (still in beta).
📲 Android 11 is out. Well, if you are one of the few lucky ones with a phone from Google (Pixel). The Verge says it is also coming to phones from OnePlus, Xiaomi, Oppo, and Realme.
🚗 Google explained how it predicts your travel time. To predict what traffic will look like in the near future, Google Maps analyzes historical traffic patterns for roads over time. Side note: Google has 13 years of historical data like this. Add to that realtime data every user of Maps is feeding back to Google and it calculates the prediction for you. [Google Blog]
🕺 And some TikTok news:
📉 What's up with the 'Tech Meltdown'? You might have come across this term in recent days. Stocks for the biggest tech companies fell by 5 or 6 percent. The reason: Unknown, so far. Yes, we do not know what happened. Here is a take by The New York Times:
Stocks on Wall Street fell Tuesday for a third-straight session, led by another sharp sell-off in shares of the same giant tech companies that had led the market back into record territory last month. The trigger for the sell-off remains at issue.
💻 High demand for Chromebooks, the low-cost laptops that use Google's Chrome operating system and apps. With students home, a Chromebook purchase seems a viable option for many parents. Chromebooks have already had a lead in the education market in the US and it has just grown. [The Information]
Computers with the Chrome operating system made up nearly 10% of all computers shipped globally in the three months ended June, up from nearly 8% in the year-ago period, according to Gartner analyst Mika Kitagawa. The more dominant Windows OS slipped, to just over 83% from 86%, while Apple's Mac OS edged up a point, to 7%. 
🤜 Is Facebook in favor of right-wing content? For months, maybe years, this has remained an open question. Mark Zuckerberg told "Axios on HBO" that it's "just wrong" to consider Facebook a right-wing echo chamber, even though conservative voices top the platform's most-engaged content. The New York Times tech columnist disagrees, saying "right-wing influencers are dominating the political discussion on Facebook". The latest piece in this debate comes from Vox's Recode, which says it's not easy to definitively conclude and we need more research, possibly by scientists outside Facebook (which might be happening just now). [Vox]
Even if we were able to understand the full extent of activity on Facebook, the link between behavior on the platform and real-life political behavior isn't clear. That's not to say other mechanisms, like polls, are perfect at indicating voting behavior either, but the actual role of Facebook in political discourse is still difficult to truly understand.
---
MEDIA
📕 Reed Hastings has a new book out and he has been everywhere giving interviews. The book is some history of the company but mainly dissects the famous culture within the streaming giant. In one of the interviews, Hastings actually confessed that he sees Disney+ as Netflix's main competitor and was blown away by how well the service is doing (60 million subscribers in the first year). Here are all the interviews I have come across:
🤖 GPT-3 isn't coming for your journalism jobs. At least not yet. There was another controversy around OpenAI's GPT-3 text-based AI, that can write as a human would after given some prompts. The Guardian gave GPT-3 a prompt, it generated 8 essays, the editors made them into one and it blew up on Twitter. One camp said this is not impressive, another sounded the alarm bell. I am camp number one, although very excited to see real applications for such a tool. Go read the article and decide for yourself.
📻 The Hungarian Service of Radio Free Europe/Radio Liberty, closed after the Cold War ended, relaunched on September 8 (web) in response to the country's steep decline in media freedom. RFE/RL's return to Hungary marks its third reentry in an EU member state. In 2019, it opened new bureaus in Bulgaria and Romania. The service is led by Gyula Csak, formerly a journalist and editor with the pan-European network Euronews and a producer and Hungary correspondent for the BBC. [RFE/RL]
🏅 The Athletic says it hits 1 million subscribers after surviving sports shutdown. The company makes more than $60 million in pure subscription revenue and has ad sales from podcasts. [CNBC]
👎 Why Disney's new 'Mulan' is a scandal? Mulan was filmed in regions across China and other locations. In the credits, Disney offers a special thanks to more than a dozen Chinese institutions that helped with the film. These include four Chinese Communist Party propaganda departments in the region of Xinjiang as well as the Public Security Bureau of the city of Turpan in the same region — organizations that are facilitating crimes against humanity. [Washington Post]  
🎙️ The Splice Beta Online conference is happening now. And throughout the entire September. Look at that great program with a really good lineup, it touches everything journalism you would imagine. You can find all the past sessions on their YouTube.
---
PODCASTS & AUDIO
🎧 Want to learn about branded podcasts? Look at the Wonder Media Network. In the Digiday podcast, CMO Shira Atkins shared some best practices. Their idea is to match the right podcast with the right brand. [Digiday]
🔘 Google is here to play you your personalized radio. The company is adding some new features to its existing news aggregation service called Your News Update, which gathers news clips from different outlets and plays them in one continuous audio feed. The goal is to create a seamless 90-minute broadcast—a mix of radio, podcast snippets, and text-to-speech article translations—tailored to an audience of one. [Wired]
🔊 In podcasting, Apple has the volume, but Spotify is catching up in scale. That is the conclusion of the latest report by Podtrac. The analytics company is tracking the biggest podcast publishers in the US and said that during August Apple has accounted for 61,1% of all podcast downloads, but reaches only 32,4% of the overall US podcast audience. Spotify is catching up in terms of people engaged with podcasting (24,6%) but is nowhere near the amount of listening (only 9,4% of overall downloads). The data basically tells you the Apple podcasts listeners are power users, and if you are looking for scale, turn to Spotify. [Podnews]
---
GAMING
🎮 Microsoft confirms the $299 Xbox Series S console. After leaks, it was hard to deny and it is nice the company revealed the long-rumored cheaper version of the new Xbox generation. Windows Central reported that both the Series X and Series S will launch on November 10th, with the previously announced high-end Series X selling for $499.[The Verge]
Here are the specs (from the video):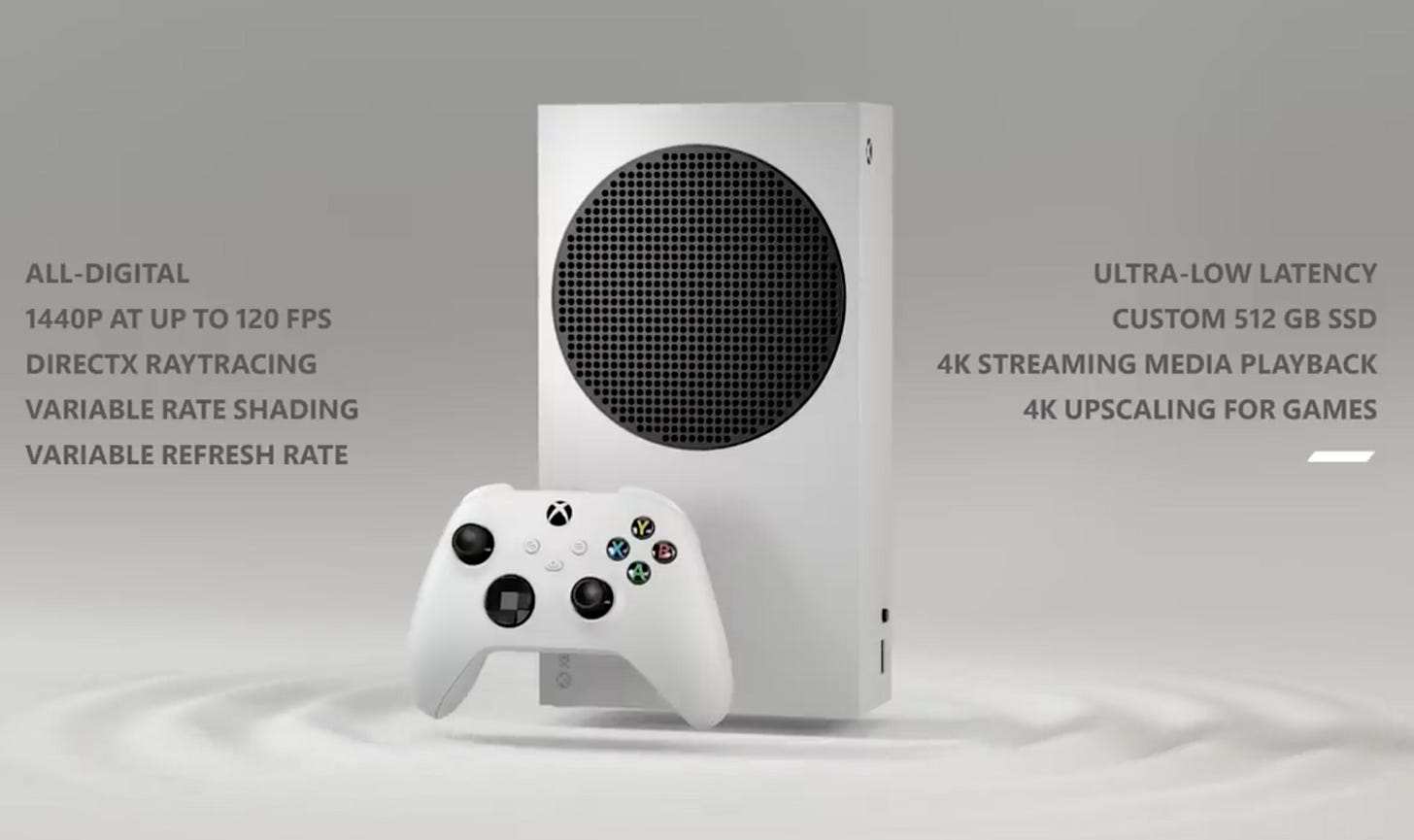 🏎️ I want this for Christmas! Mario Kart Live. [The Verge]
🕹️ Bloomberg, The Washington Post, and Wired are betting big on gaming. Why? Here's an explanation. [CNN]
Still, gaming journalism has long been dominated by more niche publications. For over a decade, outlets like Kotaku, IGN, and Destructoid have published commentary, reviews, and investigative work focused on games and the gaming industry. That is changing now. With consumers taking an interest in video games like never before, major outlets are finally investing in gaming journalism that speaks to a wider audience.
---
OTHER
🎥 The official Dune trailer is out and I have many questions. Fortunately, The Verge staff covers a lot of them.
---
Catch me on Twitter or LinkedIn. Was this forwarded to you? 👉 Subscribe over here.