Facebook paranoia: Copy all that you can
Remember that time, when Zuckerberg declined $1 billion from Yahoo? That was an entrepreneur who wanted to build new things. Now, Facebook seems to be looking at what to copy from the competition.
Welcome to the FWIW newsletter about tech, media & audio written by David Tvrdon. 🌐 Read it online and 👉 be sure to subscribe, if you were forwarded this newsletter.
In this edition
🙊 Messenger Rooms & the future of social communications
💁 Influencers are among those hit by the pandemic
💬 Other news: Smartphone sales' bleak outlook, quarterly revenue season for Big Tech, Spotify says every day is like a weekend, 4 possible post-coronavirus futures & more
---
Facebook is being Facebook again, copying instead of inventing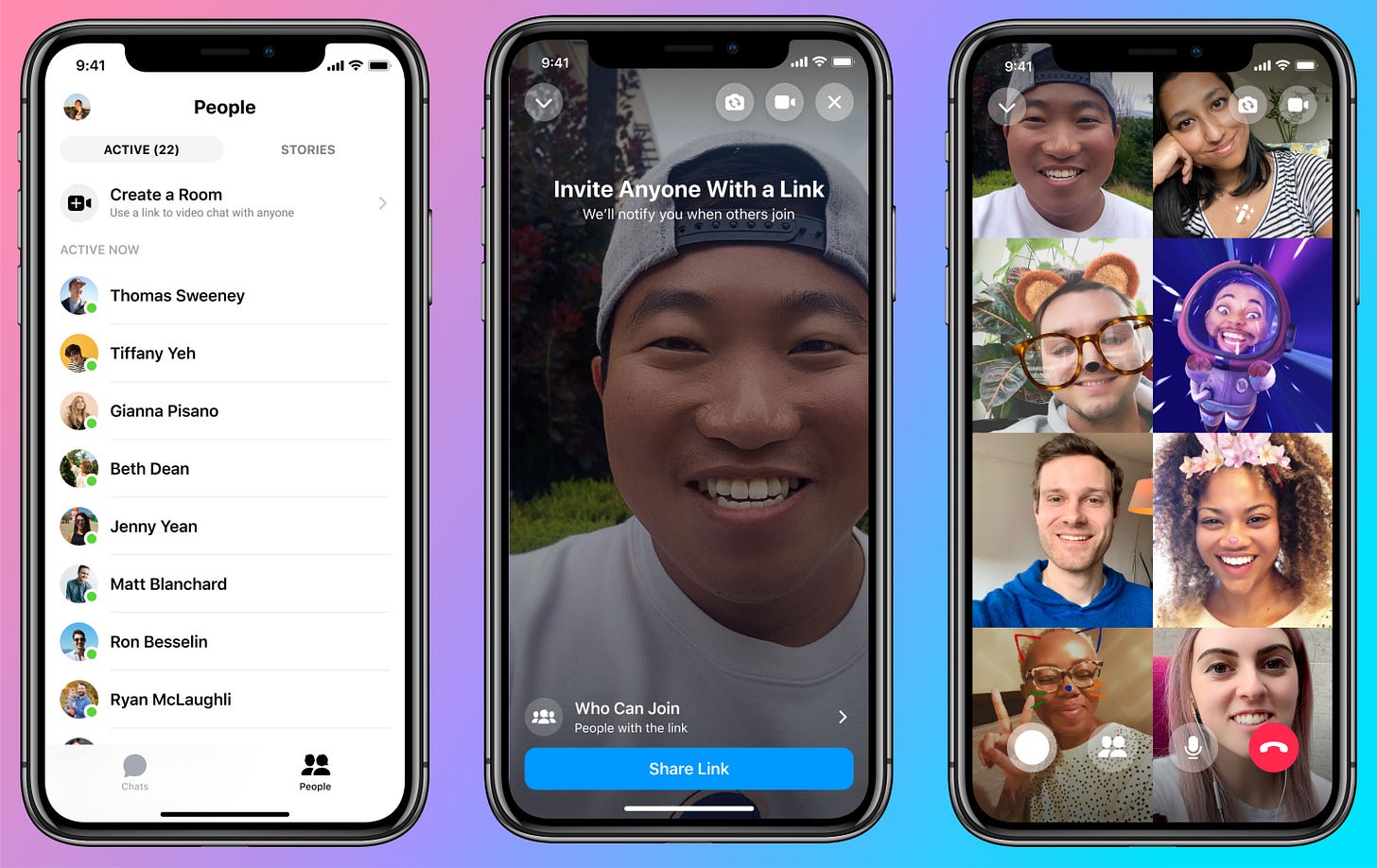 📷 by Facebook Newsroom
In July 2006 Facebook held a board meeting, the matter to be discussed - Yahoo's proposal to buy the company for $1 billion. Mark Zuckerberg started the meeting by saying it will be a quick decision, obviously, not to take the money.
Here is how does Peter Thiel remember the meeting:
Zuckerberg started the meeting like, "This is kind of a formality, just a quick board meeting, it shouldn't take more than 10 minutes. We're obviously not going to sell here." Zuckerberg's argument was that there were all these things we were going to build at Facebook, and he wanted to have a chance to build those products [Facebook was about to open beyond colleges and launch the News Feed]. [Yahoo] had no definite idea about the future. They did not properly value things that did not yet exist. They were, therefore, undervaluing the business.
Now, fast forward to 2013, when Facebook tried to acquire Snap for $3 billion. Snapchat was blowing up at the time, teens were spending much time at the platform. The kind of thing that makes you nervous when you run a different social media shop and see kids going across the street.
Facebook did what Yahoo couldn't, took some of Snapchat's know-how, and turned Instagram into a cool platform kids (and adults as well) wanted to be on. Instagram has already had a good starting point - a feel-good social site, mobile-only, and build around visuals.
Facebook took Snapchat's invention of stories, the famously disappearing-in-24-hours content, made it part of Instagram, and the rest is history. Instagram was suddenly a two in one package with a nice photo sharing experience and the familiar and liked stories format + there was already a broader audience to tap into, so why would you stay on Snapchat?
Which brings me to 2020 and Facebook catching up to the group video chat craze.
You've got to appreciate the paranoia of Mark Zuckerberg. Since Facebook became a giant, he has been keeping a close eye on emerging phenomena in the realm of the social network and beyond. After the first headlines of TikTok as a global player and rising power in the US got cold, Facebook started working on a clone.
Now, you have a company, which userbase has skyrocketed from 10 million in December to 300 million daily active users in March, and a few weeks later there is an announcement by Zuckerberg himself, they will bring the popular feature over to Facebook apps. Yes, I am talking about Zoom.
The pace with which the social media giant is able to ship new features dangerously similar to the emerging competition is staggering.
In an interview, Zuckerberg admitted he has been involved personally in developing the features coming to Messenger and partly to all the Facebook family apps (and Portal, but hey, who cares, it's not like anyone has one at home).
The idea is to provide users with an option to create large conference video calls (up to 50 participants), with a link to share for anyone to join even without an app and an option to change backgrounds or use AR filters. Sounds familiar?
You have to understand Facebook is so big, that it can relatively easily clone your product. Why do you think there hasn't been a similar contender to take its crown?
Mark Zuckerberg and Facebook have killed the competition in this category by simply growing large and partly because of their acquisitions. No VC in their right mind will invest in a social media project, no matter how sexy it may sound.
Don't get me wrong, I use Facebook products every day and can't really imagine being without them.
My point is that if you are this big and you spend so much effort on copying features from your competition and your ideas are on hold, it is a good time to have a serious discussion whether you as a company are not becoming the problem you have run from when you turned down that $1 billion from Yahoo.
Tough times for influencers
📷 by unDraw
Wired asked: Could the coronavirus kill influencer culture? And the answer is not a definitive yes, but. Some influencers are really struggling, just imagine being a travel influencer.
It is a bit ironic that people are at the moment spending a lot of time online, on social media and you would think this will be a homerun for influencers. Well, it's not. They are paid by brands and marketing budget got slashed first.
And that's not all of it, suddenly regular users are posting more content, which means more competition in the news feed. The hardest-hit categories are of course travel, retail, fashion.
I have also seen pieces that predict influencer marketing will be a thing of the past once the current crisis settles down.
I don't think so, people like their influencers. I guess as with everything, some influencers will survive, some will have to find another job, but overall this might be a healthy "trimming" of the industry which has turned into a laughing stock when anyone with two thousand followers thought of him- or herself as an influencer.
In this case, I believe this might be healthy for the future of influencer marketing.
In other news
TECHNOLOGY
📵 Smartphone sales' bleak outlook. Axios hypothesizes, and I agree, that smartphone sales could take an especially strong hit this year as people cut spending, travel less, and prioritize other types of technology. Overall consumer spending is slowing. People are putting scarce resources elsewhere. There are fewer reasons to upgrade, and those upgrade cycles had already been getting longer. So not much reason to get a new thousand-dollar phone. Expect the competition under $500 to be tougher, even more with a $399 iPhone SE with great reviews. [Axios]
📊 It's quarterly revenue season for Big Tech. I have been following the quarterly investor calls over at Twitter [in Slovak], but Protocol has a nice liveblog with results. But to sum it up so far: Big Tech is doing very well and Washington Post tried to explain why is it, that technology firms are getting more powerful — even as the global economy tanks. [Protocol]
📉 Spending on digital advertising decreased. In March there was a decline across all formats — paid search (-25%), social media (-28%), digital video (-32%), digital display (-34%), and digital audio (-35%). [eMarketer]
🛒 Amazon scooped up data from its own sellers to launch competing products. Amazon reportedly used data from third-party sellers to compete against them. [Wall Street Journal]
🍰 No.1 app? You wouldn't guess it. Perfect Cream, a mobile game where users decorate cakes, had an incredible 11,844% increase in downloads. Also, video calling apps (Google Meet, Teams, Zoom, Houseparty) have seen increased demand. [Business Insider]
---
MEDIA
🎧 Spotify says every day is like a weekend. The music streaming giant reported solid quarterly revenues and among other things said this:
It's clear from our data that morning routines have changed significantly. Every day now looks like the weekend. This trend was seen more significantly in Podcasts than in Music, likely due to the fact that Car and Commute use cases have changed quite dramatically.
Also, the company said it has more than 1 million podcasts available (same thing Apple announced) and that 19% of monthly active users have interacted with podcasts. Spotify also added that 60% of the shows are powered by Anchor. [Spotify]
✍️ Here is an open-source illustrations database you can use for free and even adjust the colors to fit your brand or website. Thanks to Mikulas for sharing. [unDraw]
---
OTHER
🏠 Four possible post-coronavirus futures. A recent report by Deloitte posits four potential scenarios for how the coronavirus pandemic could affect the economy and society. One scenario sees Beijing seizes geopolitical primacy. We have already seen this trend take place before the pandemic: the continued rise of China. The pandemic could accelerate it. [Axios]
🔮 Bill Gates has an idea of what the next phase of life will look like. [GatesNotes]
It is semi-normal. People can go out, but not as often, and not to crowded places. Picture restaurants that only seat people at every other table, and airplanes where every middle seat is empty. Schools are open, but you can't fill a stadium with 70,000 people. People are working some and spending some of their earnings, but not as much as they were before the pandemic.
---
Catch me on Twitter or LinkedIn. Was this forwarded to you? Subscribe over here👈